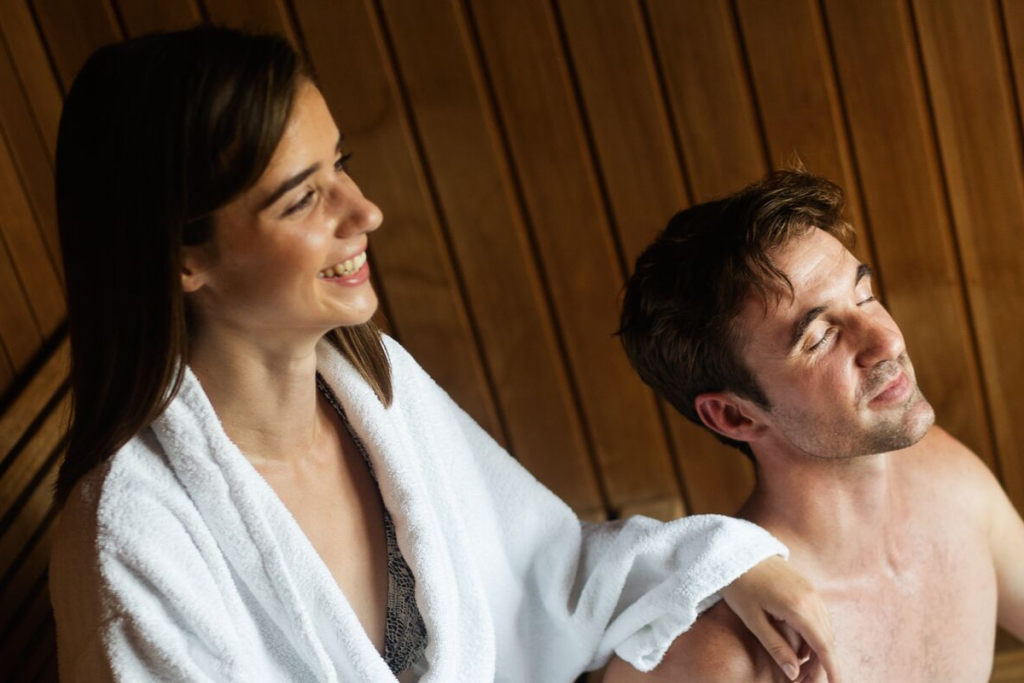 What To Do Before, During, And After Using Low Emf Far Infrared Sauna
In home sauna provides a passive heat therapy, mostly used for relaxation and pleasure.
Bathers in the sauna usually only stay for a short interval of five to twenty minutes in a traditional sauna and then cool down in a diving pool or shower.
In home saunas are becoming more and more popular worldwide, especially with the introduction of far infrared sauna, which has more home-friendly features than traditional saunas.
In home sauna makes it easier for more people to enjoy the health benefits of a sauna in the comfort of their own homes.
However, one of the concerns of many people about far infrared sauna is exposure to EMF (electric and magnetic fields). 
Did you know EMF is associated with many forms of natural or artificial lighting and electricity? And exposure to high levels of EMF may be harmful to humans.
However, the infrared in home sauna manufactured by JNH Lifestyles emits zero to virtually zero EMF values ​​and is tested for safety. 
Just like a traditional sauna, it is best to follow some conventions to enjoy the maximum benefits of an infrared sauna. Here are some of them:
Here is what needs to be done before your sauna sesh:
Shower – someone suggested showering to remove bacteria that can be replicated at warm temperatures. It is also said that the shower is only for hygiene. In any case, it is highly recommended to shower before the sauna.
Drinking water – Before entering the low EMF sauna, drink a glass of water to help replenish the water that will be lost due to sweating, and avoid dehydration.
Exercise – If you have just finished your workout, take a few minutes to relax and drink plenty of water before going into the sauna.
Skin Care – Do not use skin care products such as lotions and oils before using the sauna.
During the sauna session, you must keep in mind the following things:
Time – If you are not familiar with the sauna, please limit your session to 20 minutes in the first week and then slowly increase your time. Once you get used to it, you can spend up to 60 minutes per session. The average recommended time for the infrared sauna, however, is 30 minutes.
Sweating – You may not sweat a lot during the first three treatments compared to a regular sauna. When your body adapts to the infrared sauna, you will feel more productive. So don't feel depressed even if you sweat less on your first try. 
Carry a towel with you to dry the sweat.
After the sauna, you should:
Rest – rest for 10 minutes after the sauna. During this time, your body will return to average temperature and continue to sweat.
Maintenance – Wipe the seat with a damp cloth every week and open the door after each use to increase air circulation in the cabin. You can also purchase an oxygen ion generator to ensure that the air is fresh every time you use the sauna.
Sauna has the same effect as exercise. Staying active is one thing doctors tell people to avoid dementia. However, if you are unable to exercise due to health or personal reasons, you should use the sauna regularly to help you, it's a preventable method to prevent multiple diseases.
A large number of studies have shown that moderate to intense physical exercise can enhance emotions, reduce anxiety, and reduce the risk of depression. It also improves cognitive function throughout the life of the person. Researchers in Eastern Europe and Finland found that people who exercise and regularly go to saunas have a lesser risk of diseases compared to those who exercise alone or in the sauna alone.
When a person sweats through aerobic exercise or an infrared sauna, it stimulates the production of brain-derived neurotrophic factor (BDNF). This protein is found in the human body and is a "plant fertilizer" that causes neurogenesis and increases the volume of gray matter in the brain.  Regular moderate to strenuous exercise coupled with sauna use can also improve the stability of the white matter area of the brain. This helps to increase connectivity between young and adult brain regions.
If you are currently using a sauna in a health club or gym, why not buy your infrared sauna and enjoy it at home? You don't have to queue up, you can save time and money, and enjoy the sauna – or share it with family and close friends if you purchase a 2 person sauna or some other types that could cater to a group.
Your infrared sauna program can help prevent future cardiovascular and memory problems so start it today.