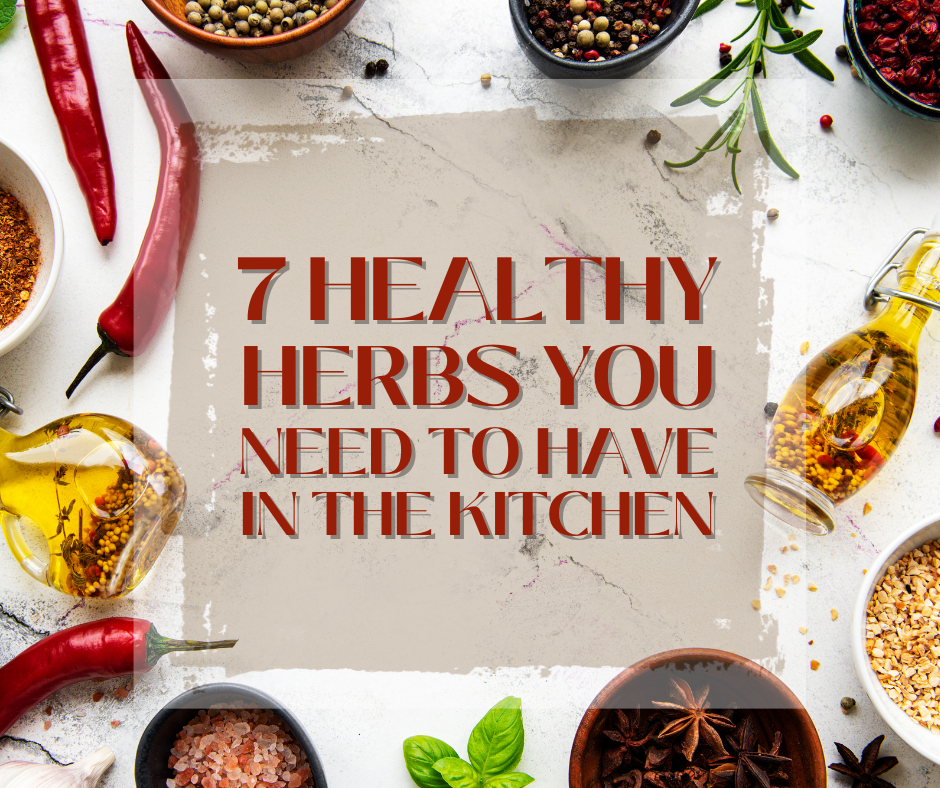 7 Healthy Herbs You Need to Have in the Kitchen
People oftentimes take herbs and spices for granted. After all, they're consumed in tiny amounts—what do they matter in the grand scheme of your meal? The answer to that is everything!
Not only do herbs help add flavor and zing to every meal, but they also give you loads of health benefits. They're basically tiny vegetables that have just as many vitamins and minerals without being too calorie-dense. Adding a bunch of herbs into every meal not only makes the taste and smell more appealing but also encourages us to lay off unhealthy stuff like excess salt and sugar.
There are a ton of herbs and spices on the market today, but we've compiled a list of the seven healthiest ones. We've specified their specific health benefits and how you can add them to a variety of dishes! 
Oregano
Oregano is an herb that has been mentioned throughout history. It was typically associated with joy and happiness by the ancient Greeks and Romans, and many consider it a staple in Greek and Italian cuisine to this day. Additionally, it is used all over the Mediterranean not just as an herb, but also as medicine that can help treat achy muscles, asthma, indigestion, and diarrhea.
With its woodsy, earthy flavor, oregano contains a ton of antioxidants. In fact, scientists even say that gram for gram, it contains more antioxidants than apples and blueberries! Antioxidants are great for the body as it reduces free radicals, the cells that lead to skin aging, cancer, and heart disease. Oregano also has antibacterial properties that prevent diseases and relieve inflammation.
As mentioned earlier, oregano is a staple in Italian and Greek cuisine and can be used in pasta and pizzas. It can also be added to meats to give them a savorier flavor.
Peppermint
You might associate mint with toothpaste, shampoos, mouthwashes, and soaps, but the more palatable variation—peppermint—can be easily incorporated into your diet too because of its antioxidants and antibacterial properties. They help our cells perform and regenerate better, improve our metabolism, and help flush out toxins from the body.
Additionally, peppermint is good for the stomach! It helps relax the tissues lining our stomach, which is a relief for people who constantly have tummy aches or acid refluxes. It also helps prevent nausea and vomiting in people undergoing chemotherapy or difficult pregnancies.
Peppermint has a very fresh taste and can be tossed with salads to give it a little variety in taste. It can also give sweet things like smoothies, ice cream, and tea to give them a little bit of minty kick.
Basil
Another staple in Italian cuisine, basil has known health benefits for the eyes. It's an amazing source of lutein and zeaxanthin compounds that reduce age-related macular degeneration in the eyes, helping prevent diseases like glaucoma and cataracts. It also shields our eyes from damaging UV rays from the sun.
Not only that, but basil is also great for your heart health! It contains another compound called eugenol that can block calcium channels, which in turn lowers your blood pressure, cholesterol, and triglycerides. Basil also helps improve a steady blood flow around your body by clearing out blood vessels and relaxing them.
As you may already know, fresh basil is the main ingredient in pesto! Lay off the store-bought, jarred pesto and blend basil, pine nuts, garlic, olive oil, and parmesan cheese. You can also use basil to help flavor tomato-based dishes like pizza and pasta or mix it in with soups or salads for some added freshness.
Parsley
Parsley is that little sprig of a leaf that often garnishes your restaurant meals. However, don't be fooled by its small size. A small tablespoon of parsley gives you a whopping 78% of your daily intake of Vitamin K!
Vitamin K helps you control your blood's health. It encourages blood clotting, preventing uncontrolled bleeding and blood thinning. When it comes to your bones, Vitamin K supports your bones' growth and development, reducing the risk of osteoporosis and arthritis.
Parsley also contains a lot of apigenin, which is a known anticancer agent. Surprisingly enough, dried parsley contains more apigenin than fresh parsley, so don't feel bad if you can't have any fresh parsley available. Dried seems to be just as good.
Rosemary
Another member of the mint family with peppermint and oregano, rosemary is a common herb used in meat-heavy dishes. It gives an earthy, aromatic flavor that is pleasing to the tongue and the nose. In fact, scientists have discovered that even a tiny whiff of this herb was enough to improve brain activity!
Rosemary is also a triple threat—it has antibacterial, antiviral, and antifungal properties. Consuming a little bit of rosemary every day can not only strengthen your immune system but also prevent cancer cells from spreading and developing.
Lastly, rosemary is very therapeutic! In aromatherapy, rosemary oil helps relieve pain, reduce stress and anxiety, and refresh the mind. Many users report feeling a lot more attentive after smelling rosemary oil, which is good news for those who do late-night study sessions or work long hours.
Sage
Sage, like oregano, is raved about throughout history. Its name is derived from the Latin name salvus, meaning "healthy". It is native to the Mediterranean region and is a traditional medicine for diabetes, as it helps to clear fatty acids from your bloodstream, leading to increased insulin sensitivity.
Sage is also an excellent source of Vitamins A and C, as well as antioxidants. Vitamins A and C are much-needed for the body to maintain healthy eyes, skin, and organ systems. On the other hand, antioxidants, as we've already mentioned, prevent the spread of free radicals that lead to cancerous cells and debilitating diseases.
With sage, a little goes a long way. For how nutrient-dense it is, it contains very few calories and is great for those trying to shed some weight. The taste of sage can quickly become overpowering anyway, so it's best to keep it to a minimum when adding it to meats, roasted vegetables, and stews.
Cilantro
Cilantro, sometimes called coriander, is a common herb found in Mexican and Asian cuisine. You often see it mixed with tacos, burritos, salsas, or perhaps noodles and stir-fries. It can be eaten as a garnish or as an actual component of the meal.
Cilantro can be quite divisive. According to scientists, many people have what's commonly referred to as a soap-tasting gene, which is a gene that makes cilantro taste like soap. They don't taste the citrusy, peppery taste of cilantro that others are fortunate to taste. So, be careful about buying too much cilantro if you're not sure if you have the soap-tasting gene or not.
Either way, there are a lot of advantages to eating cilantro. For one, it helps improve your blood sugar levels. Studies have shown that it helps alleviate the side effects of diabetes and even lowers blood sugar levels so much that people with low blood sugar levels in the first place need to avoid it.
Additionally, cilantro has both antibacterial and antimicrobial properties. They boost your immune system and prevent potentially life-threatening infections.
Conclusion
As you can see, you definitely shouldn't underestimate the power of a good herb. You can do a lot of good for your body by just adding a few pinches or teaspoons of them. With a little bit of experimenting, a perfect blend of herbs and spices will take your meals to the next level, health-wise and taste-wise!