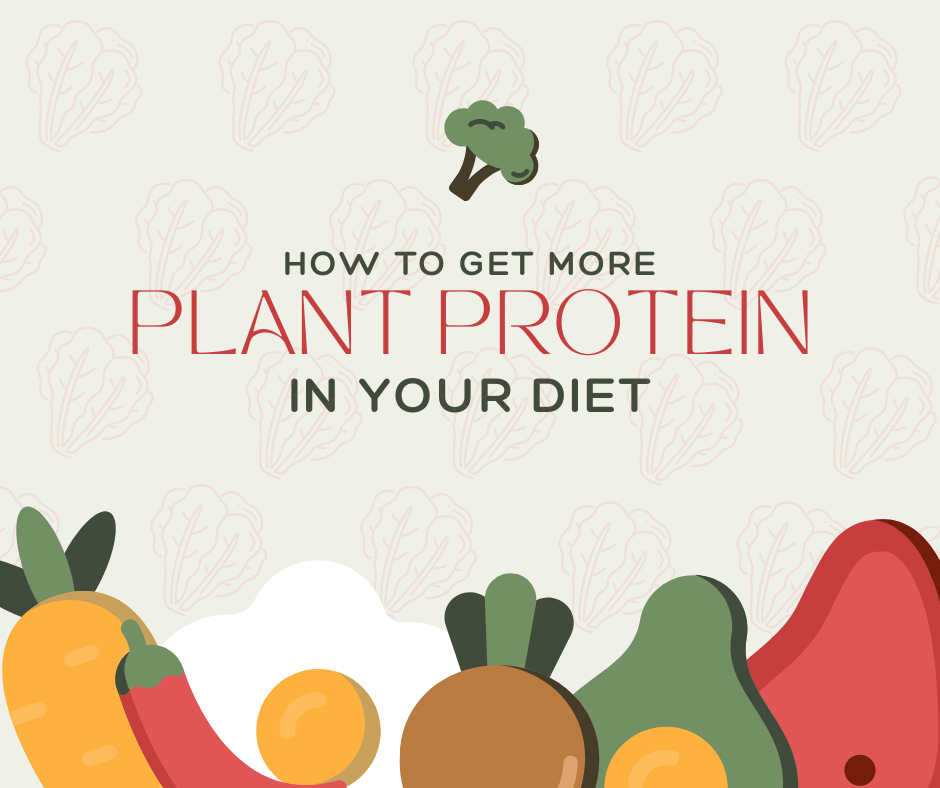 How to Get More Plant Protein in Your Diet
Whether you're someone who's making the switch from a meat-based diet to a vegan one, or someone who just wants to feel healthier and happier in their skin, adding more plant protein to your diet is always a good idea. It leads to reduced rates of life-altering diseases such as strokes, diabetes, and high blood pressure, and also helps you shed off excess weight.
Plus, not only is it good for the body, but it's also a lot better for the environment! Livestock is a menace when it comes to the production of greenhouse gases, so eating less meat would do wonders for the environment. It also saves water and energy too—plants are easier to take care of than living animals.
To some, replacing meat with plant proteins can be off-putting and maybe even depressing. However, we're here to tell you that plant protein doesn't have to be that way. With our tips, adding plant protein to your diet can be super delicious.
Let's get started, shall we?
Seeds and Nuts
These bite-sized snacks are filled to the brim with plenty of fiber, micronutrients, and healthy fats to last you through the day. They help lower your blood pressure, decrease cholesterol levels, help with weight loss, and prolong your lifespan!
Studies show that replacing meat with seeds and nuts decreased your chances of cardiovascular disease threefold. Another study also showed that it hastened recovery in cancer patients! Isn't that neat?
And the best part is, there are so many types of nuts and seeds that there's bound to be something anybody can enjoy. Some of the most common types of nuts and seeds include:
Almonds

Cashews

Hazelnuts

Peanuts

Pistachios

Chia Seeds

Flaxseeds

Pumpkin Seeds

Sesame Seeds

Sunflower Seeds
Besides eating them outright, there are plenty of ways to add seeds and nuts into your diet. Here are just some ways:
Make a nut butter and jelly sandwich.

Add almonds or pistachios to salads.

Sprinkle chia seeds or flaxseeds on your smoothies or baked goodies.

Eat trail mix loaded with seeds, nuts, and bits of dried fruit.
Grains
This might sound downright shocking, but grains are actually an excellent source of both carbohydrates and plant protein! Just for reference, quinoa contains eight grams of protein a cup, while whole wheat pasta has about 7 grams a cup. By replacing your refined carbs with unprocessed, whole grains, you can easily reach your protein intake for the day. 
Some examples of plant protein-packed grains include:
Brown, black, or red rice

Whole wheat bread and pasta

Couscous

Oats

Quinoa
Adding grains to your diet is easy peasy. As we've already mentioned, you can replace your refined carbohydrates with unprocessed carbohydrates. Here are some other ways:
Go for whole wheat versions of pasta, pizza, and bread, especially when you're dining out.

Opt for whole wheat cereal instead of sugary cereal.

Pair your meats and veggies with a hearty serving of quinoa or couscous.

Make overnight oats with lots of fruit.
Legumes
Legumes are a staple in every vegetarian and vegan diet. Most of them are incredibly low in fat but rich in protein, fiber, vitamins, and minerals. They basically have the same nutrient composition as meat but without high iron levels and saturated fats!
Legumes are low in calories but make you feel full faster and longer. If you start your day with legumes, your body will digest them for hours, ensuring you've got the energy to keep you going for the rest of the day. This makes it an ideal food for those wanting to lose weight.
Legumes are also awesome for maintaining a healthy body. Not only does it help you lower your risk of cardiovascular disease and diabetes, but it also contains a ton of antioxidants that prevent aging, cell damage, and other diseases.
Ready to add legumes to your pantry? Be on the lookout for these the next time you're out shopping:
Chickpeas

Lentils (red, black, green, etc.)

Beans (kidney, pinto, lima)
Like grains, legumes are a breeze to add to your eating habits. Try these tips for size:
Use lentils instead of ground meat in chilis or pasta sauce.

Blend chickpeas into hummus.

Serve it as a side dish to regular meals.
Soy
Last but not least on this list is soy, which is a common ingredient used in Asian cuisine. There's a reason why some Asian populations have the longest lifespans in the world. Soy has a ton of health benefits for your cardiovascular, endocrine, excretory, skeletal, reproductive, and nervous systems. That's every area of the body covered!
In addition to that, soy is rich in vitamins and minerals. You get a little bit of everything with zero cholesterol, which makes this a great option for weight-watchers too. Here are some examples of soy products:
Tofu (soft to firm)

Tempeh

Edamame

Soy milk

Miso
Taste-wise, soy is pretty versatile. It can be bought fresh or fermented, prepared grilled or baked, made into milk and yogurt, or eaten as is! Let's take a look at some examples of consuming soy:
Add silken tofu to smoothies for a creamy, cheesecake-like taste.

Crunch on edamame instead of chips or cookies.

Use soy milk on cereals and baked goods instead of cow's milk.

Replace meat with grilled or baked tempeh.