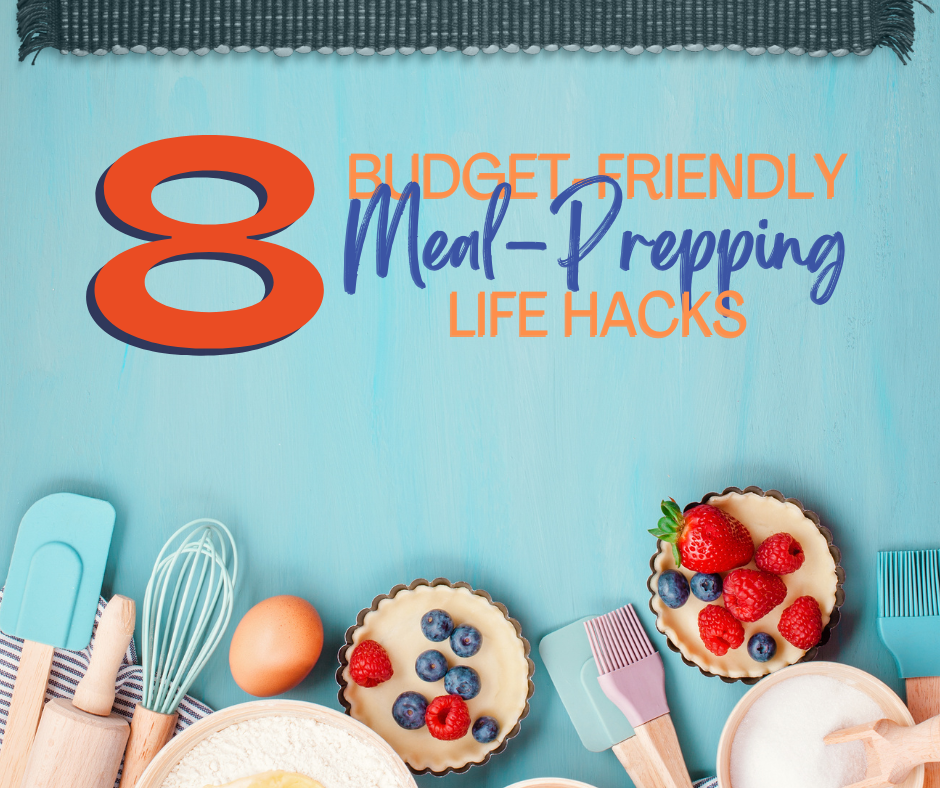 8 Budget-Friendly Meal-Prepping Life Hacks
With grocery costs on the rise this year, people are looking for ways to save money while still being healthy, and that includes meal-prepping.
Meal-prepping can be quite tiring as eating the same things over and over gets boring quickly. You want to save time and money, sure, but you also want some variety! So, if you're looking for some diversity in your pantry, look no further than this article.
Here are some budget-friendly tips for your meal-prepping strategy.
1. Create Your Own Bake Mixes
Store-bought cake, pancake, brownie, and other pastry mixes might be tasty, but they can be pretty expensive. They're also filled with God knows whatever preservatives or sugars that are bad for your body. You're better off making the switch from commercial mixes to homemade ones.
Homemade bake mixes are so, so cheap. Common ingredients like flour, baking soda, sugar, and baking powder can last up to six months unrefrigerated or more if stored properly, so you can totally buy a big bag of them at the grocery store for meal-prepping. You can store them in jars and take them out whenever you fancy a baked goodie. Just add in any add-ons like fruits, veggies, milk, eggs, and butter when you're ready to bake them.
You can even give these jarred mixtures as gifts! They're sweet and thoughtful for just about any occasion.
2. Get a Blender
This might be counterproductive to saving money, but trust us—it's a great investment. With a blender, you can stop buying expensive shakes and smoothies, make your own sauces and condiments at home, save time by mincing garlic and onions right away, and even make your own milk!
There are two kinds of blenders you want to consider: countertop and hand blenders.
Countertops are more heavy-duty—they can fit a lot of fruits and veggies and don't require elbow grease at all. The downside to them is that they do take up some space in your kitchen and can be a pain to clean depending on the type of blender. There are easy-clean countertop blenders, but these tend to be more expensive.
Hand blenders, on the other hand, are ones that you hold. They're convenient and versatile and can be used to blend soups, whip cream, mix batter, and more. They're easy to clean because the blades can pop off and be washed separately. Also, they're a lot cheaper than countertop blenders.
However, hand blenders aren't as strong as countertops, making it hard to blend raw veggies or frozen fruits. They're also a lot messier and might cost you valuable time cleaning up after yourself.
Just weigh your options before purchasing a blender, and make sure the models you're buying will last you for a long time—don't sacrifice quality for a good price. Also, try to buy one when sales are going on.
3. Buy a Whole Pumpkin
Pumpkins are pretty huge, which turns people off when they're buying them. There's no way an average family of 4 can finish a whole pumpkin in one go, let alone anybody who lives alone! So, people tend to buy them pre-sliced.
However, buying whole pumpkins is actually a lot cheaper than buying them in slices. They tend to taste fresher too. If you cooked a whole pumpkin, cut them into cubes, and then froze them, you'll have a lot of tasty additions to your meals for the next two weeks or so.
You can add frozen pumpkins to smoothies. You can blend them into soups or hummus. You can mash them and add them to baked goodies for a savory, sweet treat. You can reheat it and add it to salads or side dishes. There are so many things you can do with pumpkins!
4. Boil a Dozen Eggs
Eggs are some of the cheapest yet healthiest foods around. They're extremely rich in protein and vitamins that help you build muscle, improve metabolism, strengthen the immune system, and so much more. They can be pretty high in cholesterol, but scientists say it's not that much of a biggie—cholesterol in eggs doesn't seem to have as adverse of an effect compared to other cholesterol-laden foods.
So, if you're looking for a protein-packed snack you can get quickly, boiled eggs are your best bet. They sit well in the fridge and are tasty even when cold.
Start by buying a large carton of eggs and putting them in a pot. Pour water until all eggs have been completely covered. Turn the heat up and set the timer for 7 minutes for a perfectly runny yolk, and 10 minutes if you want hard-boiled. When the timer goes off, put the eggs in an ice bath to stop the cooking process. Put all the eggs back in the fridge and voila—you have a couple of tasty treats to nibble on for the rest of the week.
5. Prep Grains
Did you know that you can prep grains too? You just need to know how to store them properly.
Cold, refrigerated rice is a common ingredient in many fried rice dishes. Nasi goreng, for example, needs to have that cold, hard rice so it doesn't get mushy when mixed in with ingredients. If you have leftover rice, all you need to do is store it in an airtight container and stick it in the fridge. Health experts recommend eating it within 24 hours, but it can definitely last longer than that—just make sure it doesn't smell funky when you reheat it.
Your other option is to freeze it. This works especially well if you want to do some meal-prepping. Cook a whole batch of rice, portion it into serving sizes, then freeze while it's still warm. Then, when you're ready to eat it, just take it out, put cling film over it, and stick it in the microwave on high for 2-3 minutes. You'll have fluffy rice in no time!
Frozen rice can last up to 2 months if stored well. That's a money-saving score right there.
6. Use Reusable Ziploc Bags
Reusable Ziploc bags are amazing for three reasons: they're super convenient, environmentally friendly, and, of course, money-saving!
You can use these bags to store leftovers and keep meal-prepping ingredients. You can also use them as lunch baggies if you want to take a sandwich to school or work.
Because these bags are durable and easily washable, they do amazing things for the environment and your wallet. It reduces the amount of plastic you use daily, which means you don't have to keep buying more and more one-use plastic bags. The more you reuse, the more you save money and the environment.
7. Turn Smoothies into Ice Creams
While there are plenty of well-thought-out smoothie recipes on the Internet, most people would probably just throw in whatever they fancy into a blender and pray it turns out alright. Sometimes, this turns to leftover smoothies as they weren't expecting to blend so much in one go.
Now, if you're one of the fancy health nuts who like to add in whey protein, collagen, and adaptogens, then you know how expensive it can be. It would be a waste of money if you threw out leftover smoothies when they're perfectly fine.
So, set aside your leftover smoothies and refreeze them. They can turn to homemade ice cream or sorbets that you can slurp on the next time you feel puckish. It's a refreshing treat that's sweet, creamy, and healthy!
8. Choose the Right Times to Go to the Market
The best time to go to the market is near closing time. At this point, sellers are eager to go home but not eager to lug their leftover produce with them. So, they mark their fruits and veggies down quite steeply!
Keep in mind that the produce you find nearer to closing time probably aren't going to look great. The best produce will have already been taken earlier, leaving you with misshapen, bruised, or bumpy ones.
However, that doesn't mean they don't taste as good. Prevent unnecessary food wastage and help your local farmers by buying as much as you can at the end of the day.