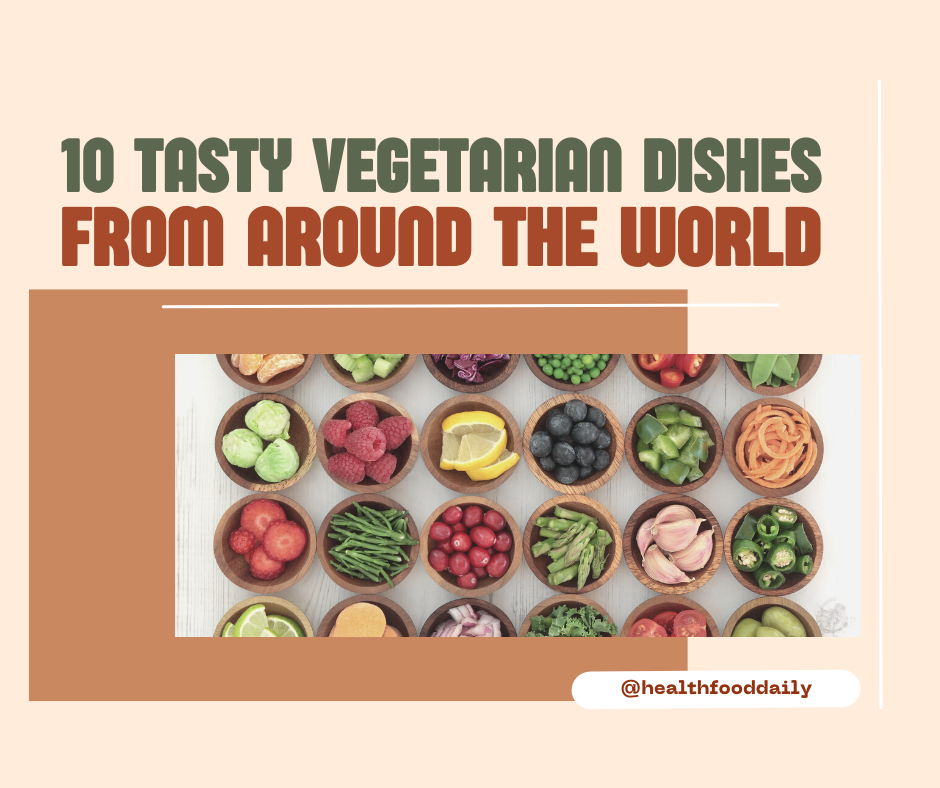 10 Tasty Vegetarian Dishes from Around the World!
Vegetarianism is abstaining from all kinds of meat (e.g., beef, pork, chicken, seafood). Many people practice it for different reasons whether it be religion, morals, health, or environmental awareness. It is practiced by all sorts of people across all sorts of cultures, which means that even while abstaining from meat, you can taste all the different flavors of the world!
Let's take a look at different vegetarian dishes around the globe, shall we?
Shahi Paneer (India)
Shahi paneer is an Indian dish that is literally translated to 'royal cottage cheese'. Its name stems from the fact that it was served to Indian royals back in the day! In this delightfully delectable dish, fresh cheese is mixed in with gravy made with yogurt, onion paste, cashews, and various spices. Top it with some garlic naan or plain basmati rice and you've got a whole firecracker of flavors in one bite!

Source: My Food Story
Doenjang Jjigae (South Korea)
Doenjang jjigae is a classic Korean stew that is so easy to make, it's a staple in almost every Korean household. Made with fermented soybean paste, it's loaded with lots of tofu, vegetables, and can be added with meat or seafood too if you'd prefer it. It's served piping hot and tastes really good with a bowl of rice, especially on a cold, winter's night or when you're sick!

Source: Asian Inspirations
Shakshuka (North Africa and Middle East)
Shakshuka is a dish primarily associated with North Africa and the Middle East, particularly Israel. The name literally means 'mixture' and is a mixture of tomatoes, onions, peppers, and a whole ton of spices before topped with poached eggs. It's commonly served at breakfast but can be eaten at any time of the day because honestly, why wouldn't you?

Source: Sauder's Eggs
Caponata (Italy)
This Sicilian dish features roasted eggplants, bell peppers, celery, and tomatoes. It offers a unique sweet, salty, and sour taste due to the intense blend of raisins or sultanas (sweet), capers or olives (salty), and red wine or lemon juice (sour). This is perfect for meal prepping as the dish typically tastes better the day after! Serve it as an appetizer or a side dish.

Source: Epicurious
Macaroni and Cheese (USA)
Macaroni and cheese is a timeless American dish that will leave any kid hungry for more. After all, who doesn't love chewy macaroni smothered with ooey-gooey cheese? This dish is primarily made with (you guessed it) macaroni and cheese but can also be spiced with paprika, garlic powder, and black pepper and topped with breadcrumbs for some extra crunch.

Source: I Am Baker
Locro de Papa (Ecuador)
Locro de Papa, or Ecuadorian potato soup, is an affordable yet delicious dish served with many Ecuadorian meals. Like many South American dishes, recipes and ingredients vary by cities and regions—some add fresh corn, cabbage, spinach, peanuts, and even blood sausage (though you probably won't like that). It's topped with cilantro, avocados, scallions, and hot sauce and is a comforting meal for rainy days.

Source: Knorr
Vinegret (Russia)
Vinegret is a stunning pink and purple dish of Russian origin. Made with beets, potatoes, carrots, green onions, white onions, peas, pickles, olive oil, apple cider vinegar, and sometimes kidney beans and sauerkraut, this vegan salad packs a serious punch. Not only does it fill the tummy up quickly, it's also low in calories!

Source: Global Storybook
Gado-Gado (Indonesia)
This traditional Indonesian salad is made with an array of raw, steamed or blanched vegetables topped with a luxurious peanut sauce. While it's usually made with shrimp taste to give that umami flavor, it can also be made with Thai red curry paste to keep the vegetarians and vegans happy too. Top it off with some fried tofu and eggs and you've got a dish that's chock full of nutrients!

Source: Recipe Tin Eats
Callaloo (The Caribbean)
Callaloo is a popular Caribbean dish made with fresh, leafy vegetables and cooked with onion, garlic, tomatoes, and hot peppers. As most of the veggies you find in the Caribbean are non-processed and organic, you just know you're getting a ton of vitamins, minerals, antioxidants, and all other sorts of healthy goodness in your tummy!
Source: YouTube
Hokey Pokey (New Zealand)
Let's end this list with the sweetest treat! Hokey pokey is New Zealand's most popular ice cream flavor and for good reason—it is a simple yet tasty dessert that consists of thick, vanilla ice cream topped with honeycomb candy and toffee. In every scoop, you taste the creaminess of the ice cream while munching on crunchy candy bits and luscious toffee syrup! Who could ever say no to that?
Source: Carmen's Best