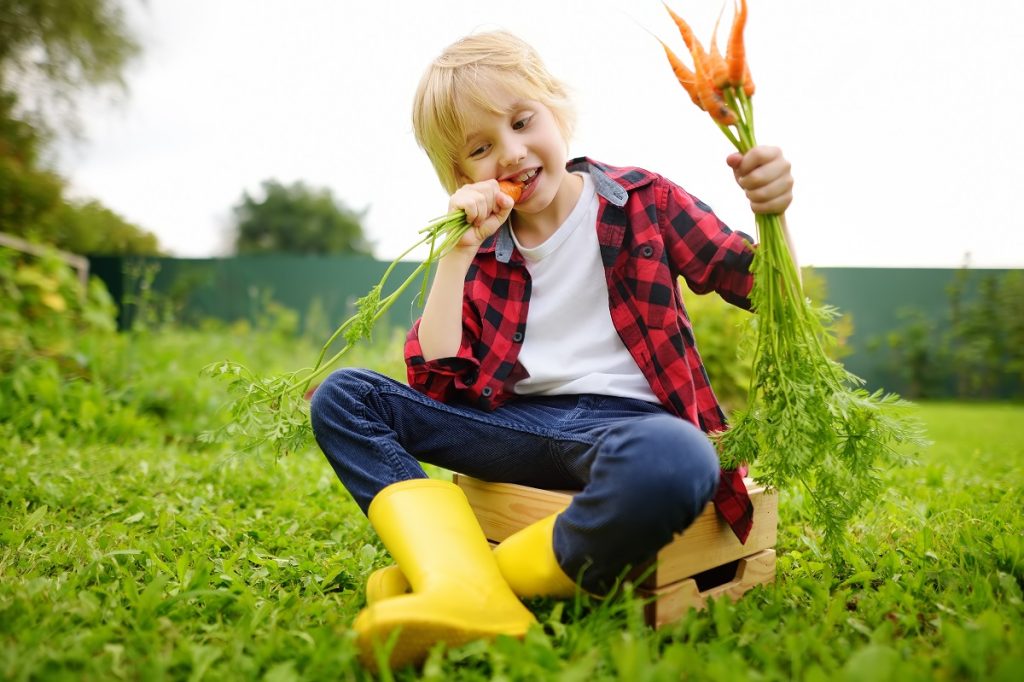 6 Ways to Make Your Kids Eat Veggies
Introduction
Getting your kids to eat their fruits and veggies can be like pulling teeth. At their age, they're not motivated by healthy vitamins and minerals just yet—they'd rather eat something tasty and yummy. And, considering that fruits and veggies have varying tastes, it can take months or even years to get them to eat regularly.
But don't fret—it's difficult, but it's not impossible. All it takes is some persistence and a little bit of experimentation. As their guardian, you need to teach them that fruits and vegetables are good for them by getting them involved with their meals, making them look appealing, and being persistent with their eating habits.
Here are our top six tricks to getting your kids to eat their fruits and veggies!
Younger kids need to be introduced to certain foods gradually. You can't just serve them an entire serving in one go! You need to give them variety, letting them try out whatever looks interesting to them. Then, you can determine what fruits and veggies they're open to and what they aren't open to.
If they refuse certain fruits and veggies, don't give up. They're one of the most versatile foods and can be cooked in a variety of ways. Perhaps your tot wants to eat them cooked rather than raw. Or, maybe they'd prefer it if they were cut into little pieces instead of strips. Or, maybe they just don't like the texture—if they don't like apples, you could try applesauce!
You also need to be firm. If they don't like the fruits and vegetables they're being served, you shouldn't make an effort to give them something else. They'll just start expecting you to swap out all of the foods they don't like with something else. Instead, make up for it at the next meal and continue serving fruits and vegetables anyway.
Again, don't give up. They're bound to take a bite or two eventually!
Kids love feeling involved with what all the grownups are doing. If they see that their parents or guardians are enjoying eating their fruits and veggies, then they're more likely to participate too. You should set an example—after all, who would want to eat food that nobody else in the household wants to eat?
Additionally, make them feel like they have a choice. From personal experience, the more you try and force a kid to do something you want, the less likely they'll do it. Then, all you're left with is a plateful of fruits and vegetables and a now grumpy kid, and you definitely wouldn't want to deal with that.
For example, if you're out shopping with your kids, you could say, "Okay, let's pick out a fruit for the week!" and have them pick out whatever they want. Or, you could have them with you in the kitchen while you prepare their meals and ask what sort of veggies they want as a side.
Over time, this exposure to fruit and veggies will encourage them to try things out!
Mix Veggies into Their Favorite Dishes
Every kid has their favorite meal. Whether it's macaroni and cheese, a peanut butter and jelly sandwich, pizza, or chicken nuggets, kids can eat them day in and day out without getting sick of them. So, instead of introducing them to new, intimidating foods like fruits and vegetables, why not hop onto something that's tried and tested?
Case in point—pizza. It's a very versatile dish that can be topped with almost any ingredient. You could add classic ingredients like bell peppers, onions, olives, and mushrooms and also interesting ones like pineapple, avocado, and artichokes. You can even take it a step farther and incorporate vegetables into the crust—we've heard cauliflower, broccoli, and beetroots work great.
With so many interesting and innovative kitchen gadgets on the market, even fruits and veggies can be a lot of fun! Instead of serving them as-is, why not cut them up into little hearts or stars or balls? Or, why not experiment with food art, creating pretty flowers, or your kid's favorite cartoon characters with fruits and veggies? It isn't as complicated as it looks, don't worry—you just need a little practice!
Take a look at these fun owl sandwiches, for instance!
If push comes to shove, you can always blend and mix fruits and vegetables into your meals. That's the great thing about them—they can be incorporated into almost anything and they'd be none the wiser. Sometimes the best way to get your kids to eat fruits and vegetables is to not let them know they're in there!
Fruits are great for meals like pancakes, smoothies, sorbets, and others. They enhance them with their natural sweetness and bright colors, making them more appealing to kids. Why not try making blueberry pancakes, fruit and yogurt bark, or strawberry milkshakes?
Vegetables, on the other hand, are good for savory dishes. You can mash them, mince them, or puree them. Consider blending various vegetables into a hearty soup, replacing rice with riced cauliflower or broccoli, mixing them with pasta sauces, and more.
Now, as a picky eater myself, this was one of the most effective ways of getting me to eat my vegetables. My mom cut them up so finely I couldn't be bothered to pick everything off. However, keep in mind that some kids will be persistent and won't start eating until they've picked everything off, lengthening mealtimes. Choose your battles wisely.
Don't Rely on Packaged Fruits and Veggies
While it might be tempting to do this, we highly discourage you from doing so. Even products advertised as packed with fruits and veggies can be loaded with unhealthy sugars and preservatives. You just can't be too sure about what your kid is eating with pre-packaged foods.
With that said, whenever you do have to buy these products, make sure you're reading the nutrition facts carefully. Look through the ingredient list and check if they're made with actual fruit and veggies and not just flavorings. Additionally, look at the sugar and sodium content—a lot of companies load their products with salt and added sugars to mask the natural fruit and veggie taste, making them unhealthier.
Another downside to packed fruits and veggies is your kid getting used to it. At the end of the day, veggie chips and fruit gummies are a far cry from unprocessed fruits and veggies and should not be eaten too often. They're good as a sweet treat once in a while, but they can't replace fruits and vegetables entirely!