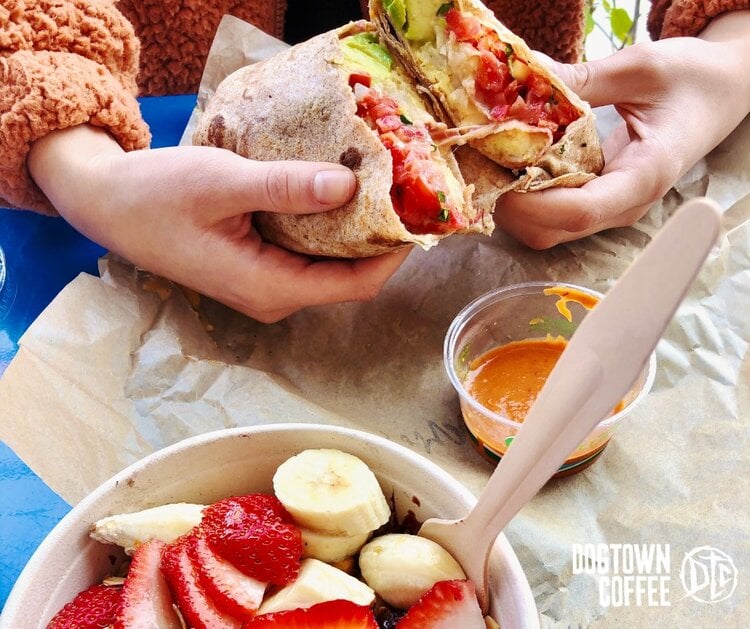 The Best Vegan Breakfast in Santa Monica
More and more every day, people are trying to find healthier or more nutritious food options. People are constantly seeking ways in which they can better themselves or the environment to improve themselves and the planet. One example is veganism, which has become very popular in the 21st century, no longer being viewed or seen as rare or uncommon. Many restaurants or food places offer vegan or organic options, including Dogtown Coffee, a coffee shop in Santa Monica. It is known for paying its tribute to surfers and skateboarders while allowing you different options for food.
Some might ask why they should choose organic or vegan options when eating meat/dairy is easier or sometimes more accessible. The three main answers to that question are:
It's good for the environment.

It helps the animals.

It improves diet/leads to weight loss.
Veganism focuses specifically on a plant-based diet that includes eating foods like whole grains, fruits, nuts, and vegetables. This type of diet can lead to lower cholesterol, blood pressure, colon cancer, prostate cancer, and so on. Veganism also helps animals/prevents animal cruelty. It is well known amongst the newer generations that a lot of the animals that people eat are raised for slaughter or harmed while being raised for slaughter. Due to this, people have turned to veganism because they feel it is an unjust and inhumane way to treat other creatures. The last reason, environmentalism, has to do with the fact that factories or shops have to be used to create meat/dairy products, which has unfortunately led to a lot of deforestation, soil degradation, a decline in biodiversity, and pollution.
Organic food is also a great option because it has a higher amount of vitamins, minerals, and other great nutrients for the body. When you find yourself doing things like skating and surfing, you want to be sure that your body has the right amount of nutrients in it. That is why it is convenient to have a well-rounded breakfast spot in Santa Monica. It is also conveniently better for the environment and prevents pollution because of how it is produced. Organic food, therefore, leads to a better ecosystem in which animals are more preserved and have a better chance for survival. Whichever option you choose, veganism or organic food, Dogtown Coffee offers both a fast and easy perspective. 
With this in mind, one should choose Dogtown Coffeehouse for their breakfast in Santa Monica because it supports this healthier mindset/outlook. They wish to cater to all types of customers and keep up with present times while still staying true to its routes. Sometimes it can be hard to find the right breakfast location when your way of eating is not "common" or ordinary, but with Dogtown Coffee Shop, you will find a place that fulfills your breakfast needs. It is right near the beach, so please stop by if you're ever surfing or skateboarding near the area!