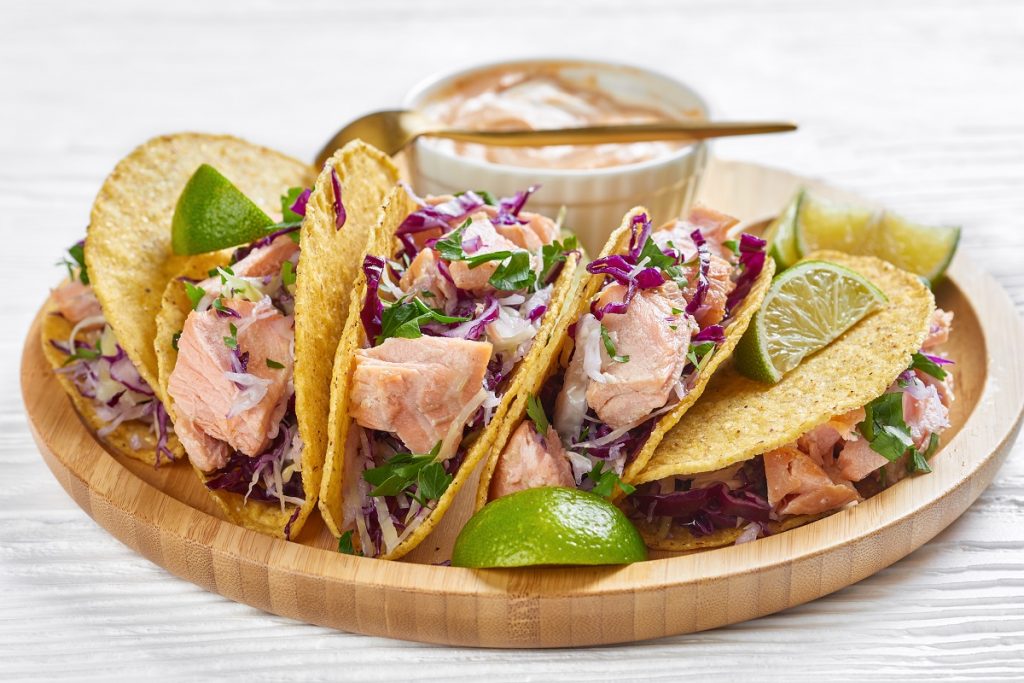 Recipes Using Honey Sticks- Mahi-mahi Honey Tacos
Love fish tacos? Then here's a quick and easy recipe to add to your dinner and lunch rotation. Packed with fresh ingredients, a zesty slaw using lemon and honey sticks, and beautifully seasoned fish, these tacos will have you reaching for seconds and thirds! Keep reading to find out how you can make these tacos for yourself the next time you're looking to take your regular taco Tuesday to the next level. 
Don't stress over cooking fish 
Fish has a reputation of being a little tricky to cook, leaving many people to feel intimidated at the idea of cooking fish for themselves. Fortunately, this no-fuss recipe is easy for even the most beginner at-home cook to perfect! All you have to do to prepare this fish is coat it in a savory blend of spices and let it pan sear on a skillet at medium-high heat for a few minutes on both sides. Having well-cooked fish at home has never been easier!
The health benefits of mahi-mahi 
This recipe uses Mahi-mahi; however, any white fish will substitute well in these tacos. If you do use mahi-mahi, you can rest well knowing you're eating one of the healthiest fish in the sea! Known for its mild flavor and meatiness, this fish is packed full of vitamins and minerals that help to lower blood pressure, strengthen the immune system, and support heart health and brain function. Not only that, but mahi-mahi is a very lean source of protein, at 90 calories and 20 grams of protein per serving. That makes this superfood an incredible addition to your diet, i.e., if you're looking to drop a couple of pounds or improve your health overall.
Mahi-mahi fish taco recipe 
Wondering how to use a honey stick? This recipe incorporates honey into the slaw for a bite of taco that is savory with a slightly sweet kick. It's the perfect way to use your honey sticks in an interesting way! Here's an ingredient list for everything else that you'll need for these tasty fish tacos: 
For the fish: 
1 Pound of mahi-mahi 

1 Tablespoon of olive oil 

1 ½ Teaspoon of paprika 

1 teaspoon of brown sugar 

1 teaspoon of cumin

½ Teaspoon of garlic powder 

½ Teaspoon of salt 

¼ Teaspoon of chili powder 

¼ Teaspoon of black pepper
For the slaw: 
1 Lime 

1 Jalapeno 

2 cups of shredded cabbage 

1 Cup of corn kernels

¼ Cup of mayonnaise 

2 Tablespoons of cilantro 

1 Tablespoon of honey from honey sticks

1 teaspoon of minced garlic 
Additional ingredients: 
Corn tortillas

Avocados

Sour cream 

Limes 
Directions: 
1) Begin by preparing and cooking the fish. Mix all your seasonings in a bowl, and then rub the mix on all sides of your fish fillets. Then, using medium-high heat, heat the olive oil in a skillet. When the oil is hot enough, place your mahi-mahi and cook for about 3 minutes on each side. Once cooked, remove the fish from the flame and set it aside to let it rest.
2) Next, make the slaw while the fish is resting. Start by juicing the lime and dicing the jalapeno. Once the ingredients are prepared, whisk together the lime juice, mayonnaise, honey, and garlic. Then, toss in the jalapeno, cabbage, corn, and cilantro. Finish up the slaw by adding salt and pepper to taste. 
3) Finally, heat the tortillas over a light oiled pan and assemble your tacos. To assemble, place pieces of fish over a warm tortilla and top with the slaw. If you'd like, you can also include an extra squeeze of lime juice, slices of avocado, and a drizzle of sour cream. All that's left is to enjoy!