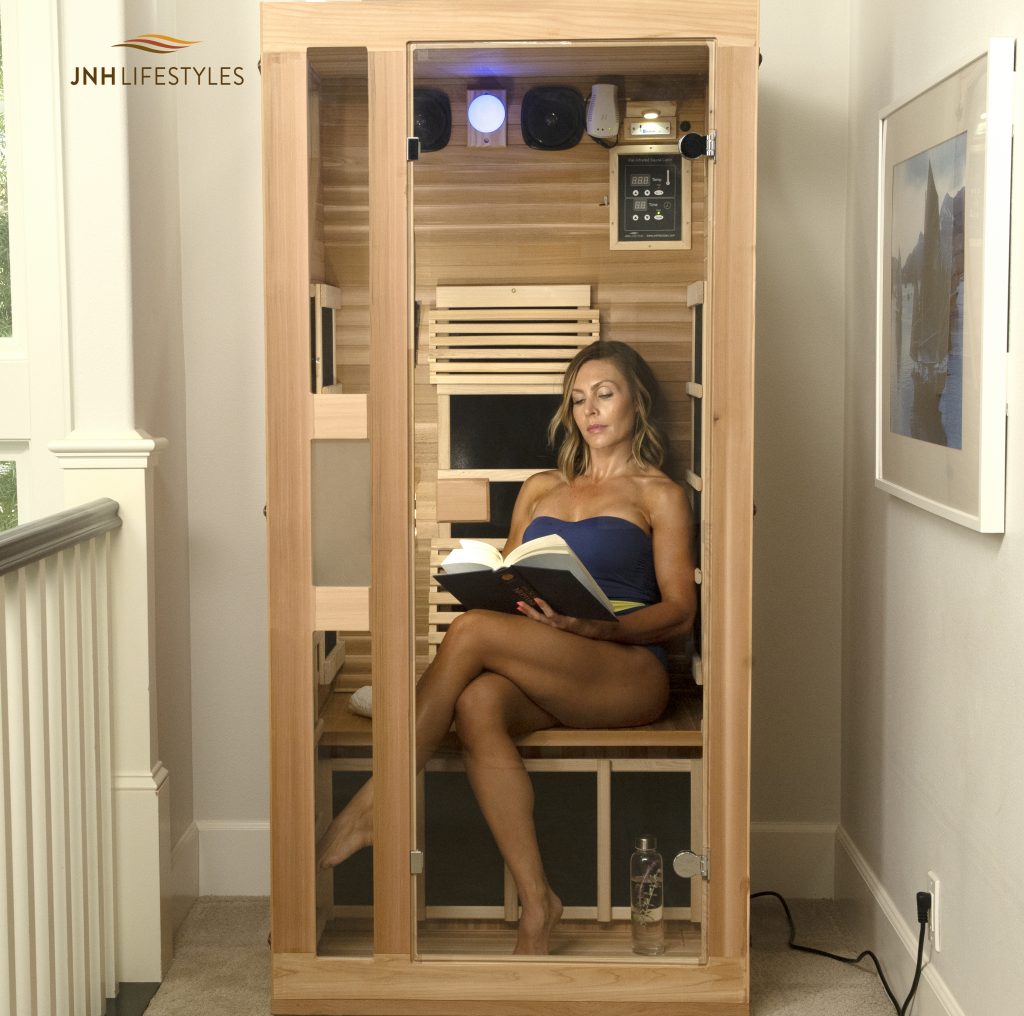 Use A Home Sauna To Treat Skin Conditions
Millions of Americans suffer in silence when it comes to skin conditions such as eczema, psoriasis, and acne. Eczema and psoriasis are both skin conditions that result in hot, itchy and painful skin. 
Not surprisingly, along with this condition usually comes a decrease in confidence and self-esteem. Unfortunately, there is no known official cure, but people have seen excellent improvements in their eczema and psoriasis when using a home sauna. 
Individuals with acne have often exhausted skin care products and oral medications to find a way to improve the physical appearance of their skin. Blackheads, enlarged pores, and chronic inflammation can be helped with enhancing circulation to the skin and by helping to remove waste from the body in a more effective way with sweating. 
An infrared sauna is a promising solution to manage these symptoms and reduce the physical and emotional burden. 
What Is An Infrared Sauna?
When you choose the best home infrared sauna, you avail yourself of a non-invasive, relaxing and rejuvenating means to soothe itchy, sore, dry and reddened skin to help control the symptoms of skin conditions such as eczema and psoriasis. 
A home sauna with infrared technology uses dry heat through infrared rays to heat the body from the inside out instead of heating the air around you which is usually the technique of a traditional sauna session. 
While traditional saunas use heat to warm the air around the user, infrared saunas heat the body directly. Infrared saunas are one of the few forms that provide infrared heat in a controlled environment. Infrared heat is an invisible electromagnetic wave with a wavelength longer than visible light that helps enhance blood flow. 
People love infrared saunas because apart from the amazing health benefits you can reap, they are good at restoring the skin to a clear and youthful appearance. 
The most effective wavelengths to heal the epidermis and dermis layers of the skin are near-infrared. The near-infrared wavelengths stimulate collagen production to reduce wrinkles and improve overall skin tone. Far infrared wavelengths can reach deep down, eliminating toxins that have a harmful impact on the skin.  
The Journal of Cosmetic and Laser Therapy published a study that revealed great improvements in skin appearance after twelve weeks of sauna skin therapy using near-infrared technology. Participants in the study experienced fewer wrinkles and crow's feet, as well as a better overall skin tone.
Also, scientific research has revealed that infrared therapy significantly enhances the skin's healing process by encouraging faster cell regeneration and human tissue growth. Human cell growth increases to heal wounds and prevent infection.
How Does An Infrared Sauna Work For Psoriasis? 
Psoriasis is an autoimmune condition that is caused by skin cells that grow too quickly. New skin cells accumulate rather than shed which leaves those affected with scaly, red and itchy skin. The degree of psoriasis will usually change depending on circumstances such as stress levels. 
Studies have revealed that instead of drying the skin out, the deep penetration of the infrared rays during a home sauna session will improve blood circulation, which brings about healing benefits.
Also, this study revealed that infrared saunas can transfer their energy as deep as 2 to 3 cm into the subcutaneous tissue without irritating or overheating the skin while accelerating blood flow. When you use an infrared sauna, the skin normally achieves these benefits:
Gets rid of dead skin cells

Delivers nutrient supplies to the epidermis layer of the skin

Encourages the immune system to function healthily and fight against harmful organisms which may be trying to attack the body through the skin

Excretes toxins through the skin
How Does An Infrared Sauna Work For Eczema?
Eczema is usually caused by environmental factors such as dust, heat, alterations in weather, fragrances, stress or specific soap products. 
Using an infrared sauna can help manage eczema symptoms by doing the following: 
Reducing the stress that can pose a huge risk for a flare-up.

Encouraging the immune system so it can respond efficiently during a flare-up.

Increase blood flow to the area.

Create a soothing feeling around the site of eczema after an infrared sauna session.
How Does An Infrared Sauna Work For Acne?
Acne is the most common inflammatory skin condition. It usually happens during puberty, but it can happen at any age and the conditions affect over 50 million Americans. Acne can be triggered by a variety of stressors such as hormones, emotional stress, menstruation, cosmetics, and specific medications.
Regular infrared sauna use is a good means of holistic acne prevention and treatment regimen. Infrared sauna sessions contribute to changes in the pH of the skin that helps to reduce the amount of sebum production. The less sebum production, the less probability of breakouts. 
Saunas cause vigorous sweating and raise the heart rate, equivalent to exercising. Sweating is amazingly beneficial for skin health. Human sweat includes large amounts of antimicrobial peptides. A peptide called dermcidin which attacks the acne-causing bacteria that resides on the skin referred to as propionibacterium acnes. 
Studies have associated the appearance of acne on the skin to the lower amounts of dermcidin. This association indicates that the increased amount of sweat produced when relaxing in a sauna can help to lessen the acne-causing bacteria on your skin.
To obtain all the benefits from an infrared sauna session, it is best to wash your face before the session to remove any oils, lotions, or makeup from your skin. After the sauna session, you should wash your face again, particularly with cold water. Keep in mind that sweating causes pores to open and rinsing with cold water helps to close pores back to their resting size. 
If you want to have healthy skin, you need good circulation. Infrared sauna sessions boost circulation by deeply penetrating infrared energy into the body, which helps to promote healing and rejuvenation.
To properly manage skin conditions is about controlling triggers for flare-ups. Many sufferers experience the negative effects of stress and lack of sleep which can be improved through the use of infrared sauna therapy.
Therefore, it is safe to assume that regular sauna sessions are what your skin needs to manage your eczema, psoriasis or acne naturally.