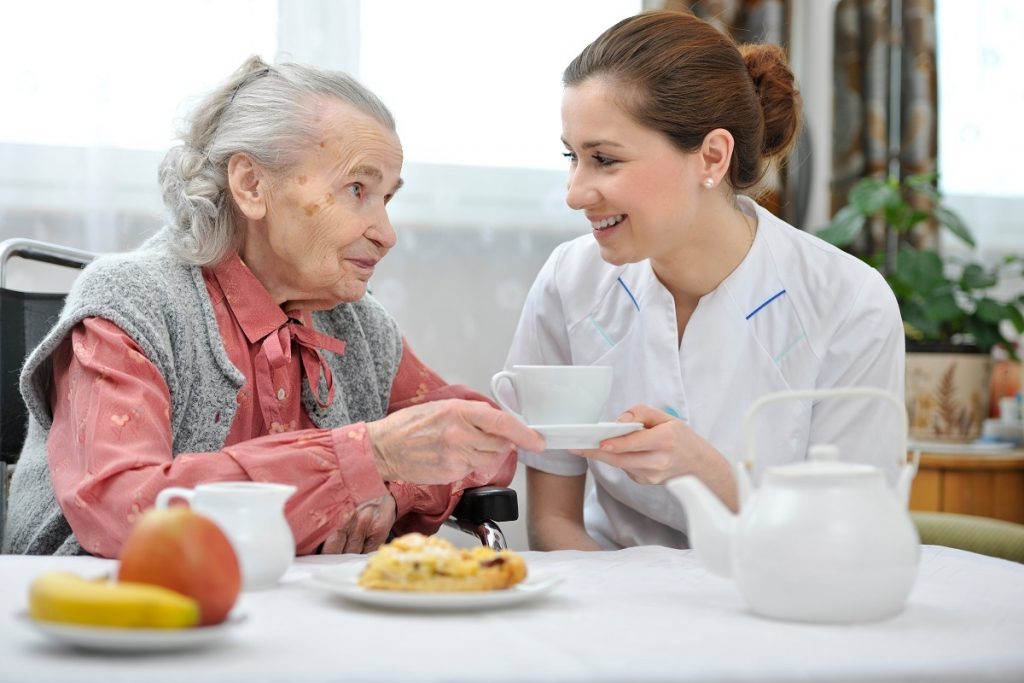 How Can Hospice Carers Help Dementia Patient Eat?
As dementia progresses sufferers might start to find that eating and difficult becomes more and more difficult. Carers of Faith and Hope,  hospice care in Burbank Ca, inform us that it is not uncommon for patients who are in the latter stages of dementia to experience loss of appetite.
It is normal to find dementia patients at a hospice start to lose weight in the later stages of the illness. Weight loss affects a person's immune system and makes it difficult for a person to overcome infections and other illnesses. Furthermore, extreme weight loss increases the risk of collapsing and makes it a challenge for a person to stay independent. 
Additionally, patients at a hospice like those in Burbank Ca or Los Angeles who are in the later stages of dementia might also develop problems with swallowing (dysphagia) and chewing. When a person has swallowing problems they are at a high risk of choking and of food or saliva going down the windpipe, which can result in infection. Challenges in swallowing are typical in the later stages since a person's muscles and reflexes are not as efficient as they used to be. This can be upsetting for the person affected as well as the people supporting them. 
That's is why it is so important to speak to a medical professional if you notice a loved one or someone you know is having problems eating and swallowing. A doctor may refer the person to a speech and language therapist or else a nutritional specialist.
Why Does Someone With Dementia Lose Their Appetite?
There a few reasons why a loved with dementia at hospice care has a poor appetite. Here we run down a list of the most common causes. 
Communication – Someone with dementia may have issues communicating that they are hungry or they aren't too keen on the food they have been given. Therefore, they start to communicate what they want in the way they act. For instance, they may stop eating or hold food in their mouth. When this happens, give them a choice of food, or use prompts and pictures to help them out. 
Depression – When a person with dementia has a loss of appetite it can also mean they are suffering from depression. Depression is normal in people with dementia. Fortunately, there are effective treatments for depression, including medication and other therapies. If you think that the person you are caring for has depression, get in contact with your doctor. 
Pain – A dementia patient may not be eating simply because they are experiencing pain and discomfort when eating. It's important to check whether they have problems with their dentures, sore gums, or painful teeth. Practice good oral hygiene and regular mouth checks to avoid this from occurring. 
Fatigue – This could also be another reason why those who suffer from dementia do not eat or stop halfway through their meal. Not consuming sufficient amounts of food can resulting in difficulties such as issues with concentration or obstacles with co-ordination. The top carers at hospice care in Burbank Ca like Faith and Hope say that it's important that if someone you know or a loved one has these problems, you should be aware of this and support the person to eat when they are the most attentive. 
Medication – Be aware of any adjustments to medication or dosage since it can result in appetite changes. If you are concerned that this is the case of appetite loss, consult with your doctor.  
Physical Activity –  Moving around throughout the day helps stimulate a person's appetite. When a person isn't very active, they usually don't feel hungry. It's a good idea to encourage and motivate them to not only be active to increase their appetite but also for their well-being. 
On the other side of the coin, if the individual can't sit still,  walks around, and constantly fidgets, they may use extra calories and may have to eat more to replace them. 
Constipation – It is not unusual for a person suffering from dementia to feel bloated or nauseous, which results in them not having an appetite. However, you can prevent constipation by encouraging them to do a lot of physical activity, feeding the person foods that are rich in fiber, and providing lots of fluids. If constipation is still an ongoing issue, it's best to talk to the doctor. 
How Can Carers Help Encourage Appetite?
There are a couple of ways that a carer can help a person's appetite and interest in food and drink. If the carer knows the person it will help immensely since everybody has different likes, requirements, and routines. So, if you know the person well, you will have a good understanding of what he/she likes or doesn't like. Also, you have to consider what the person can physically manage. Here is some advice that can help you out:
Do your best to make the food look and smell enticing. Try different tastes, colors, and smells. Studies have shown that the aroma of cooking, such as the smell of freshly baked bread can stimulate someone's appetite. 

Be on the lookout for any signs of opportunity to encourage the person to eat. For instance, if the person with dementia stays awake for much of the night then nighttime snacks may be a good idea. 

Provide the person with the food they like. Don't go overboard and place a mountain of food on their plate. It's best to put small and regular portions on their plate not to overwhelm them. 

Switch up the menu and offer them different types of food and drink such as milkshakes or smoothies.

Sometimes a person's food tastes change so provide them with foods that have stronger flavors or sweet foods. 

If the person has totally bypassed their savory meal and went straight for the dessert, don't stop them. They may like the taste of the dessert.

When food goes cold, it usually loses its allure. Try to serve half portion to help the food stay warm. Consider using a plate warmer or microwave to reheat food. 
When a person with dementia refuses to eat, the best thing anyone can do is to remain calm, use common sense, and find creative ways to help the person consume food and drink. 
If the person still refuses to eat, try again later. However, if they continue to refuse food, get in contact with a doctor.