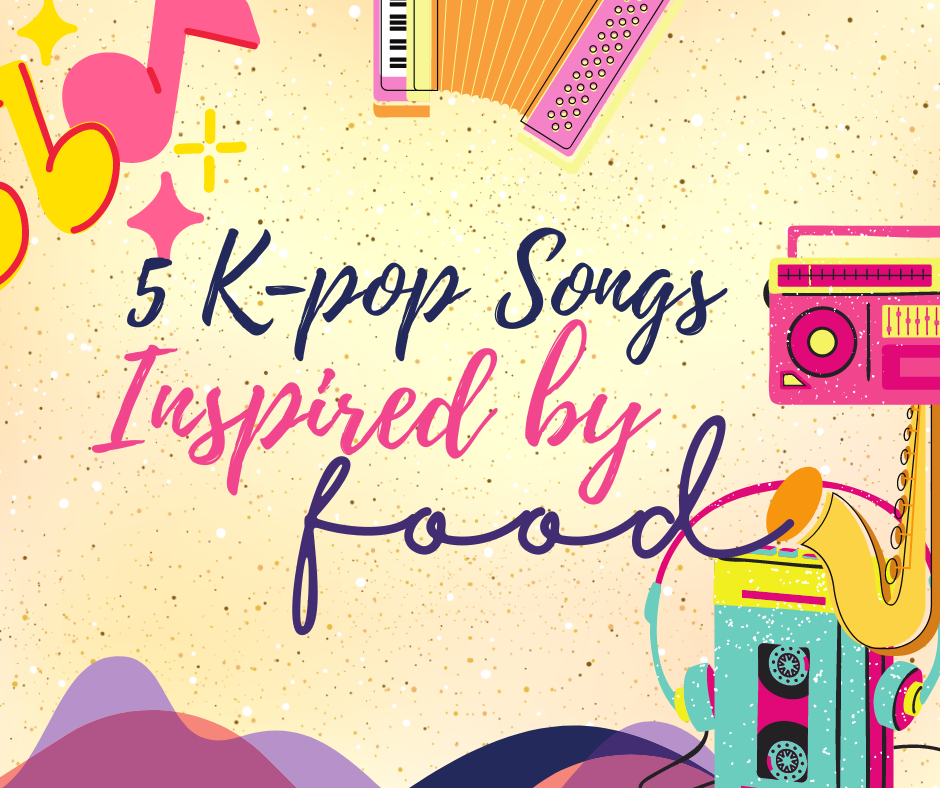 5 K-Pop Songs Inspired by Food
K-pop, or Korean pop, is a genre of music that has taken the world by storm. From its early days of SECHSKIES and Lee Hyori to its rising popularity with BIGBANG and Girls' Generation, and then to its worldwide fame with BTS and BLACKPINK, you can't deny that K-pop has proved that it's here to stay!
Keeping with the theme of this blog, we thought it would be interesting to find Korean food-related songs in. We encourage you to listen to these—who knows, maybe you'll fall into the K-pop rabbit hole just like we did!
Topping the list of food-inspired songs is a K-pop group named after food: Red Velvet. They are well-known for their very diverse range—they can go from whimsical and playful to sultry and mature to upbeat and energetic in an instant!
Summer Magic was their seventh studio album and was inspired by the happiness and joys of summer. Most of the songs on this album made you feel like you were at the beach! The song Blue Lemonade, in particular, made you long for summer love.
If there is one group that cemented K-pop's place in the music industry, it's BTS. They popularized K-pop in the Western market and completely dominated music charts all over the world! They were the first K-pop group to perform live at the Billboard Music Awards, have an album debut at #1 on Billboard's Top 200 chart, and be nominated for a major category in the Grammy Awards.
Butter is a funky, jazzy song released in 2021 as a digital single. Compared to the powerful and energetic songs that the group usually releases, Butter is laid-back and smooth, almost as if you were relaxing by the pool.
Among all entries on this list, N.Flying is the only one that differs. Technically, they're more of a K-rock band than a K-pop one. Regardless, they are relatively just as popular as many other K-pop groups and are extra special because they write and compose their own songs!
The title, Hot Potato, might be an interesting one, but, well… the group intended for the song to be quirky! It captures the attention from the first listen and left listeners confused the first time they heard the song. However, this earworm of a song makes you forget the odd lyrics and just bop your head to the beat.
4. Candy (Baekhyun)
Baekhyun is the leading vocalist of SM Entertainment boy group, EXO. Frequently referred to as the "Genius Idol", Baekhyun is not only a singer but also a songwriter and actor. As a solo act, he's achieved numerous feats including releasing the best-selling album by a solo artist in the 2010s and selling over 1 million copies of an album.
Candy was the lead single from the album that sold a million copies. It's described as a future R&B song that's distinctly addictive and trendy. Baekhyun revealed that he wanted to show a more performative side with this song's release.
5. Ice Cream (BLACKPINK & Selena Gomez)
If BTS were the most successful male K-pop group of all time, then BLACKPINK would undoubtedly be the most successful female K-pop group. Despite the lack of discography compared to their other peers, BLACKPINK is the highest-charting female Korean act on Billboard and has achieved billions of views on YouTube.
Ice Cream was a collaborative song between BLACKPINK and Selena Gomez. It's essentially a bubblegum pop song that's very playful, taunting, and confident—all characteristics that define BLACKPINK.