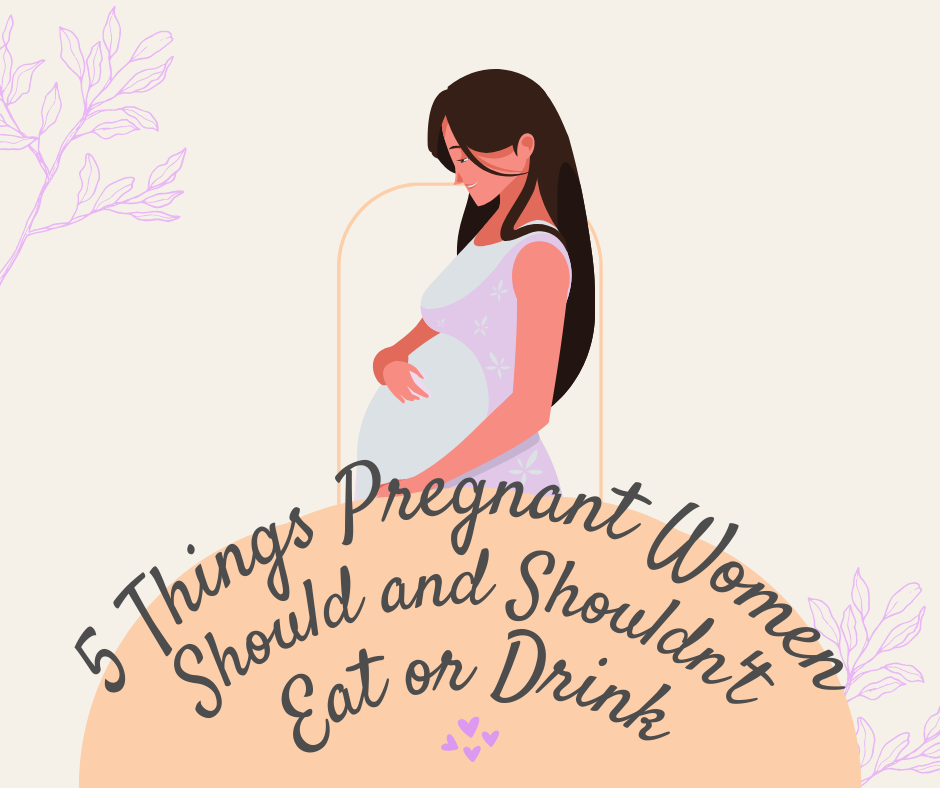 5 Things Pregnant Women Should and Shouldn't Eat or Drink
Being pregnant with a little one is a life-changing moment for everybody. It's not every day that you get to birth a child, after all! However, every stage of pregnancy comes with a lot of responsibility. It starts with being responsible for your reproductive health (only getting pregnant when you're truly ready to become parents), being responsible for doctor's appointments, and, of course, being responsible for what you eat. Your diet and lifestyle will have a lot of say on how healthy your baby is going to be when it pops out!
So, without further ado, let's take a look at the foods pregnant women should and shouldn't be eating.
1.     Water
Staying hydrated even when you're not pregnant is so important. What more if you're growing a little one inside of you?
According to obstetricians and gynecologists, your blood volume during pregnancy increases up to 45%. It's super easy to become dehydrated while pregnant as your baby will need as much water as it can get to grow healthy and strong. Thus, pregnant women need to be extra vigilant and drink more water than they usually do, otherwise, they can make themselves vulnerable to dehydration-related cases like premature labor, decreased levels of amniotic fluid, and lower production of breast milk.
2.     Raw Fish
Say goodbye to your favorite sushi rolls when you're pregnant. Raw fish can be a host to high levels of mercury, bacteria, and parasites that can be harmful to both mom and baby.
For the moms, raw fish is bad since the mom's immune system is considerably weakened during pregnancy, especially during the first few weeks. They're at higher risk of diseases that can ultimately lead to miscarriages, urinary tract infections, and stillbirths.
Effects on the babies, on the other hand, are far more severe. Mercury poisoning in infants can lead to neurological damage as mercury takes a toll on their nervous systems.
It's best to stick with cooked fish that's low in mercury, such as salmon and cod.
3.     Leafy Greens
Leafy greens and other green vegetables are packed with tons of fiber, vitamins, and minerals that your baby is going to love. It can provide your body with all the nutrients it needs to help your baby develop optimally. Indeed, eating a lot of green veggies is linked with increased birth weight, which is a sign of a very healthy baby!
Just make sure to wash your vegetables very well before eating them.
4.     Processed Meats
Listeriosis is a potentially life-threatening infection of the bacteria Listeria monocytogenes. While it's a bacterium that can be easily fought off by the average person, it is 10 times more likely to attack pregnant women, newborns, and other people with compromised immune systems.
Listeria is commonly found in processed meats such as cold cuts, hot dogs, and pate. During factory production, the bacteria can contaminate the food after it's been cooked but before it's been packaged. Eating contaminated food can lead to all sorts of infections for the baby.
If you're dead-set on eating processed meats, it's best to cook it at a minimum temperature of 165oF first immediately before serving.
5.     Lean Meats
Lean meats like beef, pork, and chicken are amazing sources of protein and minerals. Iron, in particular, is a mineral you desperately need during pregnancy as it will help produce more blood, especially during the third trimester when the baby needs more oxygen.
Without iron, your baby is at risk of developing iron-deficiency anemia. This is a condition where your body produces fewer red blood cells than usual.
If you're a vegetarian or just not a huge fan of meat, you can take iron supplements instead.
6.     Alcohol
Alcohol is the #1 food to avoid when pregnant. The liver, which is the organ that processes and filters alcohol, is the last organ to develop in a fetus. Thus, fetuses can't process alcohol very well at all, and that can lead to serious problems with their development.
In fact, there is a term specifically for infants that have been greatly affected by alcohol consumption during pregnancy. Fetal alcohol syndrome refers to developmental problems caused by drinking while pregnant, and symptoms include brain damage, facial deformities, stunted growth, and organ defects. It's also completely irreversible and uncurable.
7.     Avocados
Did you know that most pregnant women don't eat enough fiber? This leaves them prone to pregnancy-related issues like gestational diabetes and preeclampsia. Pregnant women need to eat at least 28 grams of fiber every day if they want a smooth pregnancy and a healthy baby.
Luckily, at 7 grams of fiber per piece, an avocado is a great way of increasing your fiber intake! It's also loaded with healthy fats that ease insomnia woes, and rich in antioxidants that improve breast milk quality and keep you fuller longer.
8.     Caffeine
Not enough research has gone into the effects of caffeine on fetal development, but it's not looking good so far. Scientists suggest that consuming too much caffeine (>200 mg) can lead to an increased risk of miscarriage and low birth weight.
Additionally, caffeine can have adverse effects on the mother. It can heighten blood pressure, increase heart rate, induce anxiety, and cause dizziness and stomach pain—not exactly the kind of experience you'd want to have when your body is already going through so much.
9.     Eggs
Eggs are the perfect little snack during pregnancy. Chock full of protein and fat, eggs contain very little carbohydrates—this makes them great for controlling blood pressure levels and excess weight.
Egg yolks are also full of Vitamin D. This is an essential vitamin during pregnancy as it maintains strong and healthy bones, strengthens the immune system, and promotes healthy fetal development.
When you're cooking eggs, you just have to make sure everything is fully cooked. Undercooked eggs can cause salmonella, and you can't risk passing that on to your child. Stick with hard-boiled and scrambled eggs and also avoid foods with undercooked eggs like cookie dough and eggnog.
10. Unpasteurized Dairy
Like processed meats, unpasteurized dairy products like fresh cream, soft cheese, yogurt, and ice cream made from unpasteurized milk possibly contain deadly amounts of bacteria. Not only can it carry Listeria monocytogenes, but also E. coli, salmonella, campylobacter, and others! Food poisoning from these bacteria can cause severe abdominal pain, nausea, fever, body pains, and so much more.
To prevent this from happening, only look for pasteurized products when doing groceries. They're safe for pregnant women to eat.