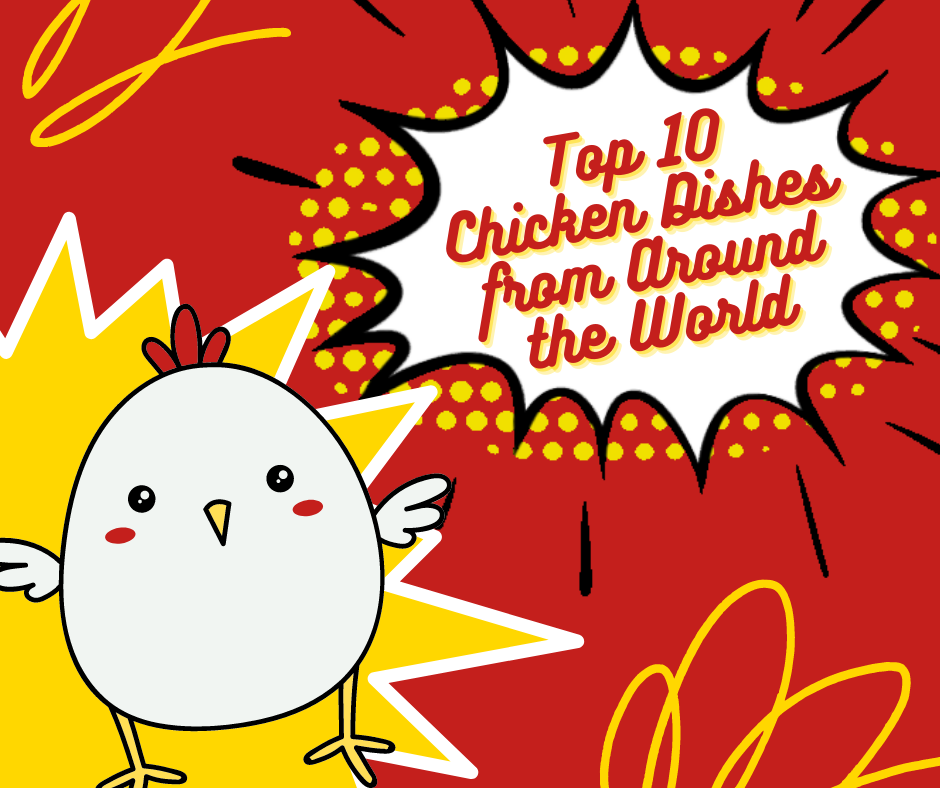 10 Chicken Dishes from Around the World
Chicken is one of the tastiest and healthiest proteins around! That's because it's much lower in cholesterol and saturated fats than its companions, pork and beef. Not only that, but it's a lot cheaper too—raising chickens does not involve a lot of feed and water, and you can even save extra money by harvesting their farm-fresh eggs instead of buying them at a store.
Chicken can be used in a variety of dishes and can be cooked, baked, boiled, barbecued, fried, grilled, and so much more. Let's find out the different ways international cuisines cook their chicken, shall we?
1. Chicken Tikka Masala (India)
Here's a fun fact for you! Did you know that chicken tikka masala, which comes from India, is considered one of the United Kingdom's national dishes? Indeed, it's become such a well-known symbol of the country's multiculturalism that you can easily find it everywhere.
Chicken tikka masala consists of roasted chicken chunks smothered in creamy yet spicy gravy. Characterized by its bright, orange color, chicken tikka masala is usually served with either rice or roti.
Source: Delish
2. Beggar's Chicken (China)
Beggar's chicken is a Chinese dish.
According to local legends, a poor beggar stole a chicken from a farm one night. Having no utensils or pots to cook the chicken in, the beggar instead wrapped the chicken in various leaves and herbs, covered it entirely with clay and mud, laid it down a hole, and set fire to it. The next day, he dug it up and cracked the clay to find a perfectly-cooked and moist chicken that is still popular to this day!
Nowadays, you'll mostly find beggar's chicken cooked in conventional ovens and ceramic cooking pots, though some restaurants still cook it the traditional way.
Source: Instructables
3. Fried Chicken (USA)
Ah, the timeless, American classic—fried chicken. Popularized in the southern United States, it primarily consists of chicken pieces coated with seasoned flour and then deep-fried or pan-fried. Historians say that the dish is a multicultural one—African-American slaves combined West African techniques to season the chicken and Scottish techniques to cook it to a crispy, golden brown.
It's a staple in many fast food and Southern restaurants not just in the country, but around the world.
Source: CD Kitchen
4. Teriyaki Chicken (Japan)
Teriyaki chicken is a Japanese chicken dish that's the perfect balance of sweet and savory. Typically made with juicy chicken thighs, it's marinated in soy sauce, cooking wine, and sugar before being grilled in the pan with the rest of the marinade. Lay it atop a steaming bowl of white rice and you'll have a scrumptious dish in less than 30 minutes!
Source: Drive Me Hungry
5. Chicken Tabaka (Georgia)
Chicken tabaka is an interesting-looking dish that hails from Georgia. Here, the chicken is flattened with a heavy object until it resembles a butterfly. Then, it's pan-fried on both sides with lots and lots of butter—this will make the chicken crunchy and delectable on the outside while moist on the inside. While it's usually seasoned with a simple blend of salt and chili, it's the sauce that really packs a punch—it's made with either a ton of garlic or wild plums and cilantro.
Source: Barbecue Bible
6. Poulet Basquaise (France)
If you're just like me and can't stand doing the dishes after a long bout of cooking, then I got the recipe for you! Poulet Basquaise (or chicken Basquaise) is a one-pot dish from the northern region of France. It's made by stewing chicken in a sauce made of tomatoes, green bell peppers, and onions. It's best served with a crunchy baguette on the side that you can dip into the sauce!
Source: Mrs. Jones's Kitchen
7. Arroz con Pollo (Spain)
The translation of arroz con pollo is simple—chicken and rice. This is a classic dish that's popular all over Spain and Latin America, and there are tons of variations on it depending on the region. For example, Ecuador serves raisins with theirs and seasons it with achiote to add a brighter color. In Peru, the dish might be a different color altogether—some Peruvians season it with cilantro to make the dish bright green instead!
This dish is so popular that even President Franklin Roosevelt ate this before his inauguration in 1933.
Source: El Sabor
8. Peri-Peri Chicken (Mozambique)
Peri-peri chicken is a spicy, tongue-tingling dish that comes from Mozambique. It's made by whipping up a sauce made with roasted peppers, onions, chili, paprika, cayenne, and salt before blending it into a creamy paste with even more chilis and lemon juice. Then, you rub half of the sauce onto your spatchcocked chicken so it's nice and evenly coated. Let it roast in the oven and serve with the other half of that spicy sauce!
Source: Yummly
9. Doro Wat (Ethiopia)
Doro wat is the national dish of Ethiopia. It can be found in most, if not all, Ethiopian restaurants and is a staple in Ethiopian cuisine. In fact, this is the dish that people are most excited about during Christmas—Ethiopians participate in a 40-day fast that has them abstaining from meat, and they break it by having a large portion of this spicy chicken stew scooped up in bread or pancakes.
Source: Classic Recipes
10. Chicken Tinola (Philippines)
Chicken tinola is a simple yet hearty dish originating from the Philippines. Made with chicken, green papaya, garlic, onions, ginger, and spinach, it's a dish that's best served during the rainy seasons. One spoonful of that savory soup warms you up from the inside!
Filipinos, like many of their other dishes, enjoy chicken tinola with some fluffy, white rice. They like to pour soup over the rice and eat it all together!
Source: Pinterest