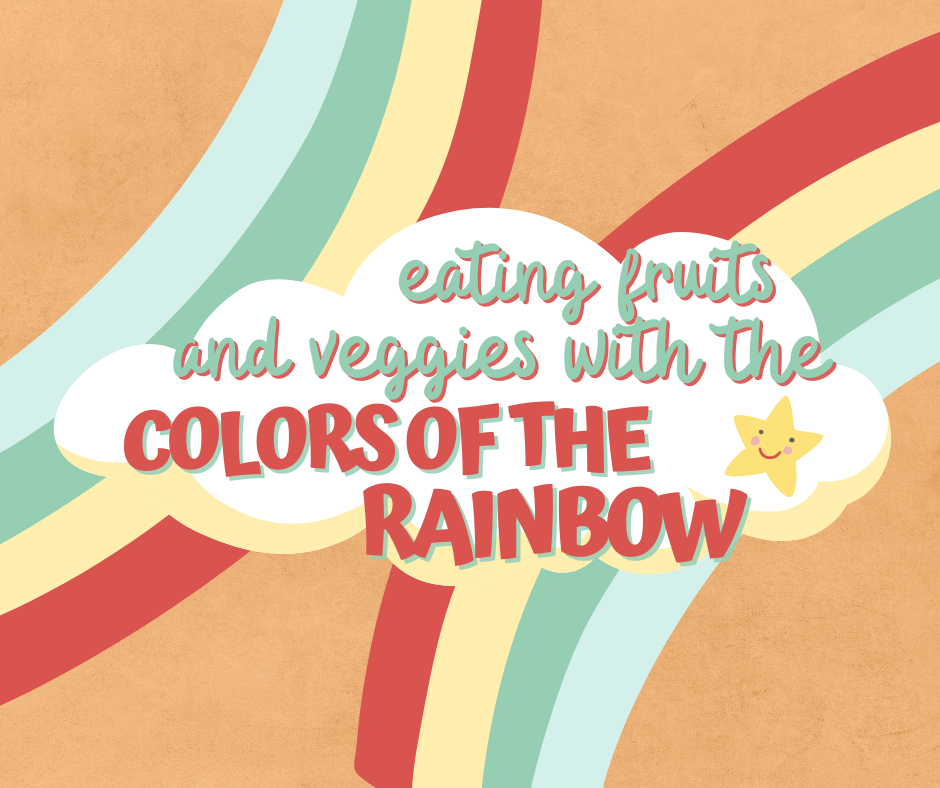 Eating Fruits and Veggies with the Colors of the Rainbow
Red (Apple and Rhubarb)
Red fruits and veggies are loaded with vitamins A and C, potassium, and antioxidants like lycopene. They reduce the risk of cancers, maintain healthy blood pressure and blood sugar levels, aid the digestion process, improve joint function, and so much more.
As the famous saying goes, an apple a day keeps the doctor away. For savory meals, you can add apples to sweeten pork chops and curries. For desserts, you've got plenty of options—apple pies, apple crumble, apple fritters, and applesauce are just some of the yummy treats you can make!
Rhubarb is also a versatile veggie. It can be used for both sweet and savory dishes because of its tartiness. Blend rhubarb with strawberries (another great red fruit!) to make compotes, tarts, and jellies. Balance out the umami and saltiness of dishes like roasted and barbecued meats or soups.
Orange (Orange and Carrot)
Orange fruits and veggies are good for the eye, protecting them from the harmful UV rays of the sun. They also lower cholesterol levels, strengthen the immune system, and promote healthy skin.
Orange you glad orange is on this list? Juicy and oh, so yummy, oranges can be added to both savory and sweet dishes! They add a bit of tanginess to dishes like orange chicken and seared seafood and a pop of flavor to fruit salads, cream cupcakes, and popsicles.
Carrot, on the other hand, is a real help for parents wanting their kids to eat healthily. Unlike most veggies, carrots are sweet and easy on the palate. They're the perfect side dish if you pan-fried or roasted them until they're nice and tender. They can also be grated and added to cakes and cookies.
Yellow (Banana and Bell Pepper)
Yellow fruits and veggies are full of vitamins A and C and potassium. If you didn't know, potassium is a mineral that can counteract the effects of sodium. If you've got heart problems or just want to go easy on your kidneys, then potassium is the way to go.
For how incredibly sweet they are, bananas are relatively low in calories with just 100 calories per piece. You can eat it as is or use it to blend into smoothies, top sandwiches and pancakes, and add to baked goodies.
Meanwhile, yellow bell peppers (the perfect in-between of green and red bell pepper) are pleasantly sweet and tangy. They're rich in iron, making them the perfect veggie for anemia and other blood problems. Like carrots, they can be served as an awesome side dish or even stuffed with foods like ground meat and quinoa!
Green (Honeydew Melon and Broccoli)
If you were to ask me, green fruits and veggies are the healthiest color. They're packed with lots of soluble and insoluble fiber that aid in digestion and prevent certain cancers like colon and stomach. Additionally, the extra chlorophyll in them helps you get better skin, giving you that youthful glow!
Honeydew melon is a light green fruit that also comes in orange and yellow varieties. Given its extremely diverse nutrient profile, honeydew melons are surprisingly low in calories. They help with weight management and blood pressure and sugar level maintenance.
Broccoli is a fluffy-looking vegetable. Both the florets and the stems are perfectly edible and provide a wealth of health benefits, including heart health, anti-cancer properties, and hormonal balance. Sautee them until they're a nice, bright green and crunch on them!
Blue (Blueberries and Blue Corn)
This is the trickiest color to find on the fruit and veggies list but we managed to pull it off anyway. They're pretty special because of their high levels of anthocyanin, an antioxidant that helps improve brain function and lowers the risk of debilitating diseases like cancer and heart attacks.
The obvious fruit here would be the blueberry. Besides anthocyanin, it also hosts a lot of minerals like iron, phosphorous, calcium, and magnesium. Who knew that adding a handful of blueberries to your muffins and pancakes would be so good for your bones, skin, and blood?
Blue corn is definitely the outlier in this list. It's mostly unheard of because people typically associate corn with a bright, sunny yellow. However, don't underestimate it—it has 20% more protein than its counterpart and a lower glycemic index. It's great for weight and sugar level management!
Purple (Grapes and Eggplant)
Like the previous section, purple fruits and veggies are packed with anthocyanin. It's also rich in polyphenol, which is another kind of antioxidant that helps improve brain function. If you constantly feel like your brain is in a rut, then perhaps a nice serving of purple fruit and veggie would be good for you.
Grapes are the quintessential purple fruit, though they also come in white and green. Like most other fruits on this list, they help prevent debilitating diseases and maintain normal function of your body. However, did you know that they also have a bit of melatonin? Yes, a handful of these little ones before bedtime can help you fall asleep!
Eggplants, unlike the name suggests, look nothing like eggs when fully grown. They're a deep, royal purple that adds a bit of elegance to any dish. Besides that, they lessen symptoms of inflammatory and chronic conditions like bronchitis and asthma!