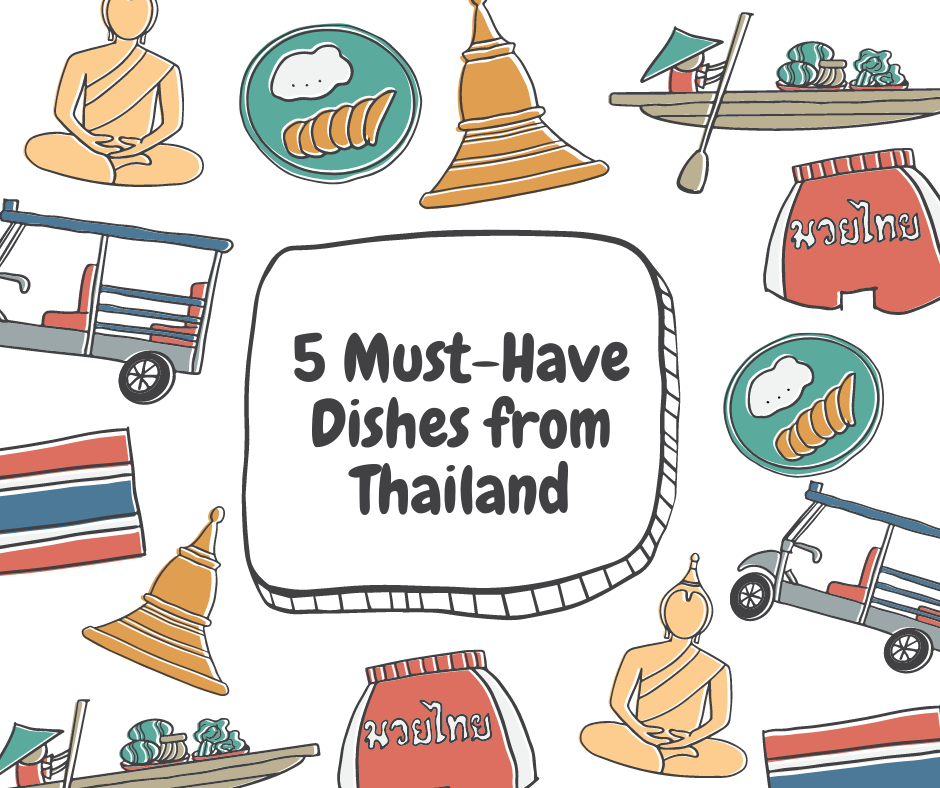 5 Must-Have Dishes from Thailand
Thailand (officially the Kingdom of Thailand) is a country in mainland Southeast Asia. It is very well-known among tourists as an excellent vacation destination for a variety of reasons. Firstly, it is cheap—you can enjoy a lot of things Thailand has to offer without breaking the budget. Secondly, it is tropical—with warm weather and a ton of gorgeous natural resources, Thailand can be considered paradise. Lastly, Thailand is known for having dishes that are very yummy and unlike anything else you've ever tasted before!
In this article, we'll be taking a look at the various Thailand dishes that get people raving. These Thailand dishes are so flavorful and fresh, and not to mention very healthy!
1. Pad Thai (Stir-Fried Noodles)
Almost everybody and their mothers think of Pad Thai first when they think of Thai cuisine! This iconic dish features chewy, flat noodles that have been stir-fried with plump shrimps (or chicken or tofu), crisp bean sprouts, savory green onions, fish sauce, tamarind, and scrambled eggs. It is topped with roasted peanuts and a couple of other herbs and spices to add even more flavor to an already flavorful dish.
The taste of Pad Thai is very characteristic of Thai cuisine—it is sweet, salty, and sour at the same time. It is the perfect introduction to any newbie to Thai cuisine as it's not too spicy or rich. The different textures you get in every bite will have you cleaning the plate in no time.
2. Tom Yum Goong (Hot and Sour Prawn Soup)
Tom yum goong is a soup dish from Thailand that is also quite popular worldwide. It is derived from three words: tom (meaning boiled), yum (meaning mixed), and goong (meaning prawns). As you can deduce from the name, this soup is jam-packed with lots of spicy, sour flavors from the various herbs and spices—these include lemongrass, kaffir lime leaves, galangal, fish sauce, chili peppers, and so much more!
When paired with rice or prawn crackers, tom yum goong is a well-balanced meal that has numerous health benefits. It contains a ton of essential vitamins (e.g., A, B1, B2, B3) that help prevent the body from developing diseases like cancer, stomach issues, heart failure, and more.
3. Gaeng Keow Wan Gai (Green Curry)
Thailand is well-known around the world for its curries, and of all the colors their curries come from, green is the spiciest. Its base is made with fiery green chilis that have been boiled with coconut milk, helping to neutralize the spiciness. To the curry, fresh aromatics and healthy herbs like lemongrass, galangal, and garlic are also added, as well as some tasty vegetables like potatoes, eggplants, and bamboo shoots. Finish the dish off with some slices of chicken and you've got a tasty meal!
Interestingly, Thai green curry is surmised to be the newest type of curry. Before the 1920s, there was barely any mention of it, and some Thai scholars argue that it was introduced as an influence from Indian cuisine. Whatever the case, we're glad that Thai green curry made its way into our hearts and tummies eventually.
4. Khao Pad (Fried Rice)
People often only think of Chinese cuisine when they think of fried rice, and that's a huge mistake in our opinion. Thai fried rice is some of the best fried rice you will ever taste! Although the two dishes have plenty of similarities in the ingredients they use, the base ingredients in Thailand could not be any more different. While Chinese fried rice uses soy sauce and long-grain rice for their fried rice, Thai fried rice uses fish or oyster sauce and jasmine rice for theirs!
Additionally, khao pad isn't eaten with chopsticks as many people would assume. It's eaten with a spoon, which helps you to scarf down heaping spoonfuls of it because it's just that delicious.
Khao pad is common street food in Thailand and can just be easily made at home. It takes less than 30 minutes to prepare and cook, making it the perfect quick meal for busy days.
5. Khao Niao Mamuang (Mango Sticky Rice)
Last but not least on this list is Thailand's most beloved dessert—mango sticky rice. It's one of the most beloved Thailand dishes worldwide. This ooey-gooey dessert consists of sticky rice that has been boiled in creamy coconut milk until it's sticky and mushy in the mouth. It's then paired with some fresh mango to help balance out the creaminess. Serve the whole thing with some added coconut milk or condensed milk for the perfect dessert to finish your Thai meal.
Trust us, you won't ever want to miss this dish! Fortunately for you, many Thai restaurants in Brentwood and all over the world offer mango sticky rice for you to try. Of course, heading to Thailand to taste it from the masters themselves is also a great idea!