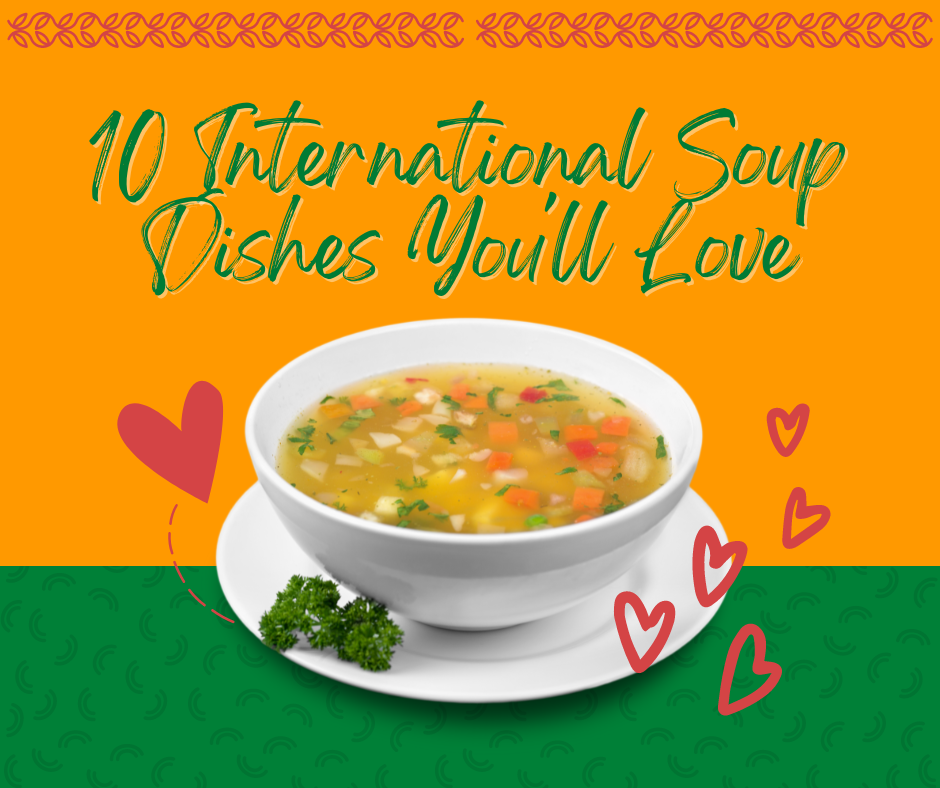 10 International Soup Dishes You'll Love
You can't go wrong with a hearty bowl of soup. It'll always be there for you whenever you're sick, cold, or in dire need of something comforting and filling. It's usually very easy to make too—you can make a whole batch of it in one go, making it the perfect option for busy bees and meal preppers. Have your soup by dipping it with bread, eating with rice or noodles, or just slurping directly from the bowl!
Today, we'll be taking a look at how countries around the world like their soup!
1. Borscht (Russia)
Borscht is a traditional Russian and Ukrainian recipe. This hearty stew consists of meat and vegetables, one of which is the beet which lends the dish its distinctive bright red color. Borscht is the perfect blend of carbohydrates, protein, vitamins, and minerals, which is why it's a staple in most, if not all, Slavic households.
Borscht normally comes with some chopped dill and sour cream as a garnish. It's also served with crunchy bread that's perfect for dipping. And the best part? Borscht gets even better the day after!
2. Ajiaco Colombiano (Colombia)
Up next is Colombia's version of chicken soup. Its base ingredients are chicken, potatoes, and corn, and it can be served with a ton of add-ins like avocadoes, capers, cream, and rice. It's served steaming hot and is very comforting and filling—it's the perfect dish for colder weather or if you're recovering from an illness. Whatever the case, Colombia sure knows how to make a killer chicken soup!
3. Minestrone (Italy)
Whenever people think of Italian cuisine, people jump to pizza and pasta right away, and that's a dang shame. There are a ton of Italian dishes out there that people really need to stop sleeping on, one of which is the super healthy and super savory minestrone (pronounced min-uh-strow-nee).
Minestrone was originally developed to use all leftover vegetables, which is why many recipes you see today are just packed with all sorts of veggies. Carrots, celery, potatoes, onions, and other vegetables of your liking are all boiled in a tomato soup until tender. Then, you add a bit of pasta for some extra weight.
4. Tom Yum (Thailand)
Let's head to Thailand to get a taste of their classic sweet and sour soup, tom yum! It is one of the most famous Thai dishes worldwide and can be identified easily by its sunny, orange color. It is perhaps also the healthiest—one serving of this awesome dish amounts to just 156 calories!
Tom refers to boiling while yum refers to mixing. Here, pork or shrimp is boiled in a soup made of lemongrass, lime juice, fish sauce, chilis, mushrooms, tomatoes, cilantro, and more. With this many ingredients, you're guaranteed a different-flavored spoonful with every bite.
5. Pho (Vietnam)
Sort of on the other side of the spectrum from tom yum is pho, Vietnam's national dish. While the former is an explosion of flavors, pho is clean, refreshing, and can be adapted to anybody's palates. You can add sriracha if you'd like it spicier, fish sauce if you'd like it tangier, and so on.
The star of the dish is undoubtedly the broth. It is made by simmering beef bones, onions, ginger, and spices for several hours. While it's getting ready, noodles, coriander, and thin slices of beef are prepared in a bowl. When it's time to serve, the hot broth is poured into the bowl, cooking the other ingredients in the process. What you get in the end is a fresh bowl of the most comforting noodles ever!
6. Caldo Verde (Portugal)
Caldo verde, which literally translates to green broth, is a Portuguese soup that's made of collard greens and kale (hence the name), potatoes, and sausage. Originating from the north of Portugal, this dish is the unofficial national dish of the country and can be found everywhere from high-end restaurants to simple households.
Caldo verde is another one of those dishes that tastes better the more you let it sit. It's also very easy to make. In less than an hour, you can make enough soup to last you the whole week!
7. French Onion Soup (France)
Here's another European soup that'll have you salivating. Here, caramelized white onions are simmered in rich beef stock and white wine until they're super tender. Then, it's topped with a slice of French bread topped with gruyere and parmesan cheese.
Sweet, savory, salty, and creamy—that's French onion soup. You'll quickly find out that one bowl of this soup is simply not enough!
8. Chupe de Camarones (Peru)
Chupe de camarones is a spicy dish from Peru that consists of shrimp, vegetables, and eggs.
It has a long and rich history—it's been said that the Incas had been making shrimp soup for ages even before the Spaniards came along. When they came and settled, the Incas started incorporating eggs and milk into the dish, helping the chupe de camarones evolve into what it is today.
Today, all regions of Peru have their own variations of the dish. It is commonly served during the early days of the colder season.
9. Clam Chowder (United States)
A staple in the Northeastern United States, clam chowder is a soup made of clams, potatoes, and vegetable stock. It's often topped with crunchy bacon and served with saltine crackers.
While many typically associate clam chowders with the white, creamy kind (i.e., New England clam chowder), there are actually a couple of variations of clam chowder. There's Manhattan clam chowder with tomato-based broth; Rhode Island clam chowder with clear broth; Long Island clam chowder, which is a mix of New England and Manhattan.
The image below is New England clam chowder.
10. Ramen (Japan)
You can't have a list of soups around the world without mentioning ramen! This iconic Japanese dish can be found in all corners of the country (and worldwide!) and is one of the tastiest yet inexpensive Japanese foods around. Ramen is so popular is frequently makes an appearance in Japanese media, including Studio Ghibli movies and anime!
Ramen comes in a ton of variations depending on the broth (e.g., soy sauce-based, miso-based), noodles (e.g., thin vs. thick, soft vs. firm), and toppings (e.g., roast pork, boiled eggs, seaweed). You can even decide if you want the soup mixed or on the side! Whatever it is, there's always a bowl of ramen that can satisfy any palate.