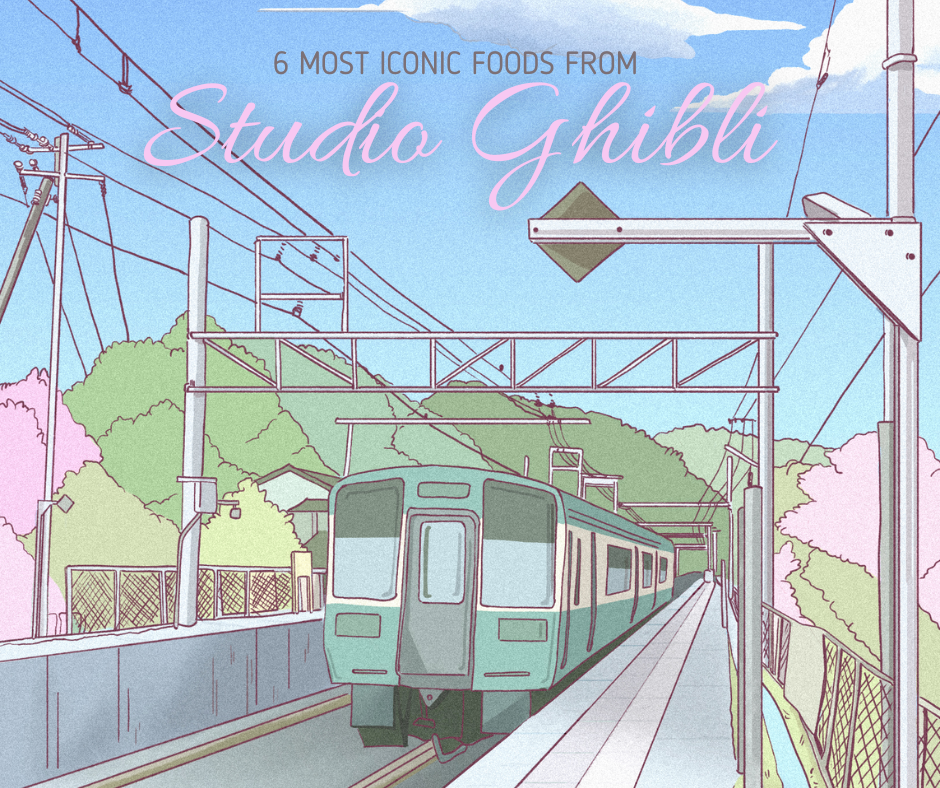 6 Iconic Foods from Studio Ghibli
Studio Ghibli is an animation production company headquartered in Tokyo, Japan. They are famous all over the world for their whimsical movies about spiritual beings and the bittersweet lives of well-written characters. They're known for their artistry, in particular—instead of high-energy scenes we expect to see in Western movies, Studio Ghibli is known for being more slice-of-life and slow-paced.
Another thing Studio Ghibli is known for is food, particularly Japanese cuisine. Like many cultures, Japanese culture is known for spending time with their loved ones through food. Let's take a look at the various foods shown in many of Studio Ghibli's movies.
1. Ramen (Ponyo)
Ponyo is a story of a magical goldfish named Ponyo. She escapes from the ocean and is rescued by Sosuke and his mother, who willingly welcome her into their home.
In one particular scene, Ponyo is visibly very excited to have some ramen. As a fish, she probably never had a lot of opportunities to eat it, and she couldn't wait to dig in. To her surprise, Sosuke's mother, Lisa, ends up adding more toppings to her ramen, including chives, eggs, and ham. This makes Ponyo very happy.
2. Eggs and Bacon (Howl's Moving Castle)
Howl's Moving Castle starts with a young woman named Sophie. While on a journey to visit her sister, she encounters the Witch of the Waste, who turns her into a 90-year-old woman. Sophie then heads off to search for a cure to her curse.
Along the way, she meets a living scarecrow who directs her to Howl's Moving Castle. There, she finds a fire demon named Calcifer who's permanently bound to the castle's owner, Howl. Calcifer offers her a deal—if she can somehow break the bond between him and Howl, he'll break the curse on her in return.
Sophie accepts and hires herself to become the castle's new cleaning lady. She starts her duties by cooking breakfast for Howl, with Howl somehow taking over halfway.
3. Thumbprint Cookies (When Marnie Was There)
When Marnie Was There depicts the close friendship between Anna and Marnie. They bonded over several meals together, such as the one you see below. In this scene, Marnie takes Anna on a little boat ride while they share a small plate of homemade thumbprint cookies.
Anna didn't know it at the time, but her newfound friend was actually her grandmother at a younger age. They had transcended the metaphysical gap somehow. Anna, who was a foster child and had a hard time with her identity, had a sense of closure and was now more comfortable living with her new foster family.
4. Bento Box (My Neighbor Totoro)
My Neighbor Totoro is set in the 1950s. Here, two little girls named Satsuki and Mei move with their father to an old house. They did this so they could be close to their mother, who was recovering from a long-term illness in a hospital nearby. In the house lived a couple of strange yet adorable spirits, one of which is named Totoro.
Satsuki making bento boxes for her family is quite a sad scene if you think about it. Growing up without a mother, she had to learn how to cook entire meals and take care of her little sister herself.
5. Onigiri (Spirited Away)
Spirited Away is one of Studio Ghibli's most beloved movies. It tells the story of Chihiro, whose parents had sadly turned into pigs. Desperate for their return, Chihiro offers to work for a witch at a bathhouse haunted by spirits.
Life at the bathhouse was not easy for Chihiro. She was regularly discriminated against by her coworkers, and now she was stuck with a binding employment contract. Haku, a new friend Chihiro made, sees that the girl is in distress and offers her a rice ball (onigiri) for some strength. Suddenly realizing the wealth of trouble she's in, Chihiro starts crying while gulping down her rice ball.
6. Herring and Pumpkin Pie (Kiki's Delivery Service)
Kiki's Delivery Service is a coming-of-age movie about a witch Kiki and her cat Jiji. She flies off on her broomstick to the port city of Koriko, where she later establishes a delivery service called 'Witch Delivery Business'. Kiki delivers all sorts of parcels while doing her job around the city, one of which is a herring and pumpkin pie.
This admittedly strange dish was cooked by a charming old lady for her granddaughter's birthday. As you can see, a lot of love and care went into baking this dish!