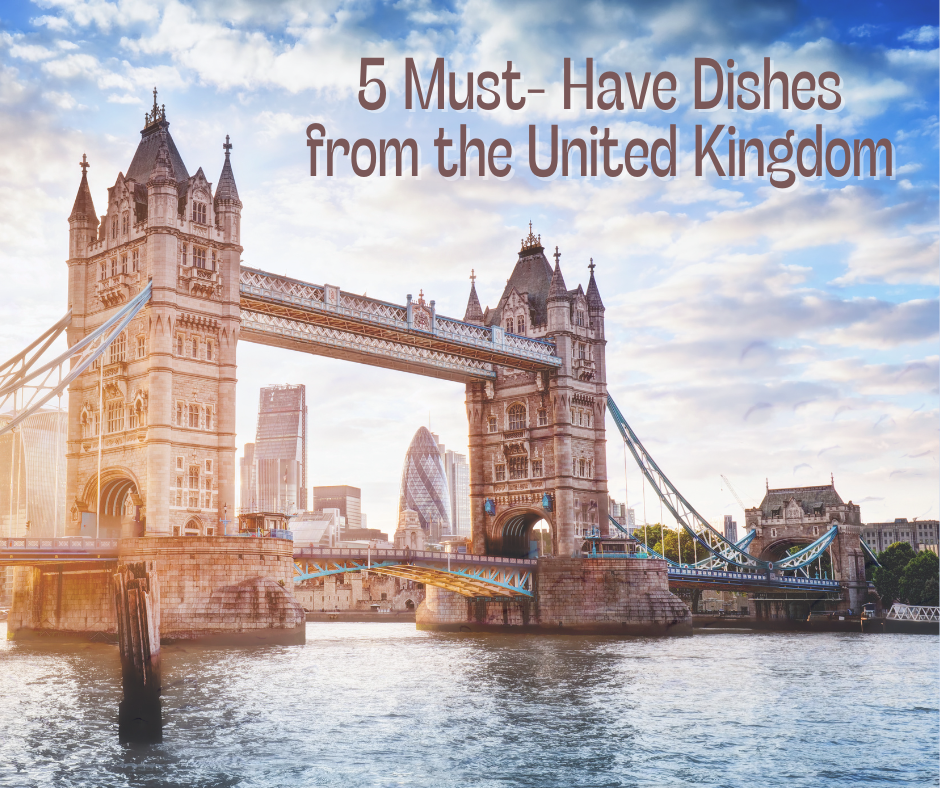 5 Must-Have Dishes from the United Kingdom
Considered a cultural hotpot, the United Kingdom is host to a wealth of tasty dishes. A lot of the foods you'll find there are mixes of different cultures that the United Kingdom has interacted with over the years—Indian, French, Chinese, African, and so much more. British food history is very fascinating as they've kept a wonderful record of their foods for centuries!
With that said, you might be confused as to what foods to try first if you end up visiting the country. So, we've compiled a list of the most well-known and well-loved British foods in this article. We hope you enjoy it!
1. Fish and Chips
Fish and chips is a classic British dish that is comprised of deep frying beer-battered white fish like cod and haddock and pairing it with thick-cut fries (or chips as they say in the United Kingdom), tartar sauce, and lemon wedges. All over the country, you can find stalls that sell this scrumptious dish—it's popular takeaway food!
The history of fish and chips goes back to the 17th century when Jewish migrants first came to the country. They were the first to fry their fish, and somewhere along the line, someone had started pairing chips with it. Fish and chips were particularly popular during the World War as it was the very few foods not rationed by the British Government.
2. Bangers and Mash
Voted Britain's most popular comfort food in 2009, bangers and mash is a dish that consists of pork, lamb, or beef sausages with a generous heap of mashed potatoes. It is topped with rich onion gravy and typically served with peas. It is considered 'pub grub' as it is very quick and easy to make even in large quantities.
Did you know that the reason why these sausages are called 'bangers' is that they had the propensity to burst in the pan back in the day? Sausages in World War I had such high water content that the casing would tear apart—hence 'bang'.
3. English Breakfast
Start the day off right with a full English breakfast. Made with a whopping combination of eggs, bacon, sausages, hash browns, tomatoes, mushrooms, toast, baked beans, and black pudding (blood sausage), you're sure to have the energy to last you throughout the day. Indeed, they're so popular in the country that they're offered throughout the day too!
The origins of the English Breakfast go back to the 13th century when households would serve huge meals for visiting family and friends. Since then, it's been a staple in all British households!
4. Sunday Roast
Sunday roasts are every carnivore's dream. They are loaded with tons of roasted meats and roasted potatoes and are typically accompanied by Yorkshire pudding, steamed vegetables, stuffing, gravy, and other condiments like mint sauce or jellies. Despite the name, Sunday roasts can be enjoyed every day of the week.
Back in the medieval period, Catholics and Anglicans abstained from eating meat on Fridays and abstained from eating altogether on Saturdays. Then, after church service was over on Sundays, they would celebrate breaking their fast with a large, meaty meal.
5. Shepherd's Pie
If you haven't noticed from the previous entries on this list, the British love eating potatoes with their meats. Shepherd's pie takes this to the next level by having cooked minced lamb or beef and topping it with a thick layer of mashed potatoes. It's then baked in the oven to have a nice, toasty top layer.
Traditionally, shepherd's pie was made to use up leftover cooked meats. Refrigeration wasn't a thing back then. They had to make do by cooking all their meats to preserve them longer. Shepherd's pie was simply one of the dishes they made to do so.