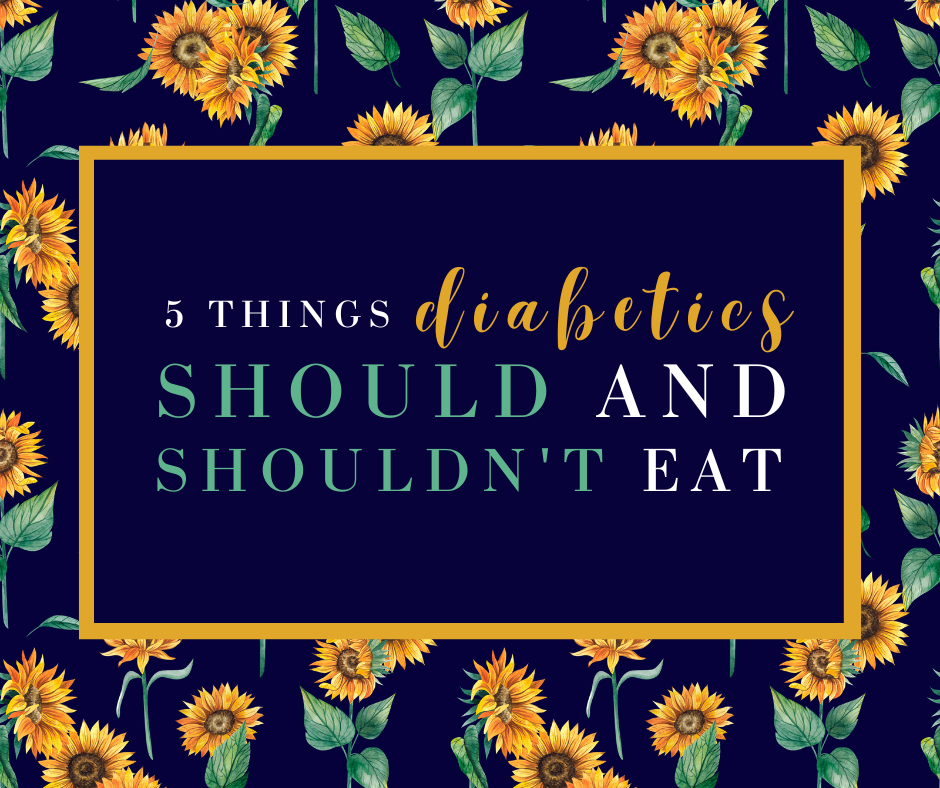 5 Things Diabetics Should and Shouldn't Eat
According to the American Diabetes Association, over 37.3 million Americans have diabetes. Of this number, approximately 95% of them have type 2 diabetes, which is the kind that people get due to poor lifestyle and diet. It affects people of all age groups.
Type 2 diabetics need to take great care of themselves because unmaintained diabetes can quickly become life-threatening. If they don't get their blood sugar levels under control, they can face medical issues like heart disease, kidney disease, nerve damage, and even amputation of limbs.
Thankfully, diabetics just need to be very diligent with their lifestyle and diet. This includes eating foods that can help get their sugar levels under control and avoiding foods that don't.
Let's take a look at foods diabetics should and shouldn't avoid.
1. Avocado
Avocado is the stuff of legends in the food world. Loaded with healthy fats, vitamins, and minerals, avocado can not only help you lose weight, but also stabilize your blood sugar levels, slow down the progression of diabetes, and improve insulin sensitivity. This is a perfect low-sugar, high-fat fruit that you won't feel guilty about eating, even as a diabetic!
Make yourself a trendy avocado toast, mash it into guacamole, or eat avocados as is!
According to experts, our brain finds it hard to process getting calories from drinks. You could drink ten cans of Sprite and your brain would still think you're lacking in calories! This makes you prone to overindulging, potentially leading to dangerously high blood sugar levels.
On top of that, you're not getting any nutritional benefits out of sweetened beverages. In fact, you're probably getting a lot of disadvantages—increased chances of obesity and high blood pressure are just some of them.
So, get good value for your calories by eating healthy calories like fruits instead.
3. Walnuts
One of the hardest things to adjust to after being diagnosed with diabetes is giving up chips and crackers. Not to worry though—walnuts are an excellent alternative and offer a wide range of health benefits to boot!
Walnuts are loaded with protein, fiber, and healthy fats. These will help reduce various complications caused by diabetes. For example, the healthy fats in walnuts lower bad cholesterol while increasing good cholesterol. This is awesome as high blood pressure is an unfortunate side effect of diabetes.
Munch on walnuts as a tasty snack or add them to salads or yogurts.
4. Sweets
Diabetes is a condition that causes someone to have dangerously high sugar levels, so it makes sense to avoid things like candies, chocolates, and lollipops that are made of pure sugar.
With that said, however, you don't have to give up sweets altogether. You can still have a little sweet treat as long as you're minding your portions, eating healthily, and exercising regularly. As always, moderation is key!
Additionally, there are thankfully many diabetic-friendly sweets on the market. Look out for sugar-free candies sweetened with aspartame or xylitol.
5. Strawberries
Despite their tanginess and sweetness, strawberries are extremely low in sugar. You can easily enjoy a cup of fresh strawberries without worrying about your glucose levels.
On top of that, strawberries are rich in antioxidants. They strengthen the immune system and keep your cells as healthy as can be, reducing the risk of cancers and signs of aging.
We highly recommend trying the decadent combo of fresh, juicy strawberries and fluffy sugar-free whipped cream!
6. Fried Foods
Fried foods are usually coated with high-carbohydrate breading, fried in unhealthily fatty oils, and loaded with too many calories than it's worth. This will worsen your diabetes and leave you vulnerable to other life-changing diseases like strokes and heart attacks.
Instead of frying your foods, stick to roasting, grilling, or baking. You'll get all the yumminess with far less fat.
7. Chia Seeds
Don't let their tiny forms fool you—chia seeds are one of the healthiest things around. They're rich in antioxidants, fiber, and very surprisingly, omega-3 fatty acids!
If you didn't already know, omega-3 fatty acids are amazing at lowering your triglyceride levels and inflammation. They're also commonly found in fish, which is why it might be surprising to know chia seeds are full of them. If you're not a fan of fish or don't eat fish, then chia seeds might be the thing for you.
Add a spoonful of chia seeds to your yogurt or smoothie!
8. Processed Carbohydrates
Processed carbohydrates refer to carbohydrates that have been refined so much that all of their natural fiber, vitamins, and minerals are gone. These include white bread, white pasta, and store-bought pizza doughs.
Without all of that yummy, healthy goodness, processed carbohydrates are essentially empty calories too just like sweetened beverages. They do nothing for your body besides raising your blood sugar levels and short-term energy levels.
9. Ginger
Ginger has been a common ingredient in traditional medicine since time immemorial. Besides being a tasty addition to any dish, it has loads of health benefits like fighting off viral and bacterial diseases, reducing pain and inflammation, and lowering cholesterol and blood sugar levels.
To incorporate ginger into your diet, steep a few slices in hot water to make tea, add them to smoothies, or mix some ginger zest with your baked goodies.
10. Whole Dairy
While dairy products like milk, yogurt, and cheese might be excellent sources of calcium, diabetics need to take great care in consuming them. That's because they're high in both carbohydrates and fats. Much of their carbohydrates are unhealthy sugars that raise your glucose levels, while the fats heighten your risk of cardiovascular disease.
You should always stick to low-fat or non-fat dairy products so you can still get the benefits of milk without the unnecessary sugars and fats.