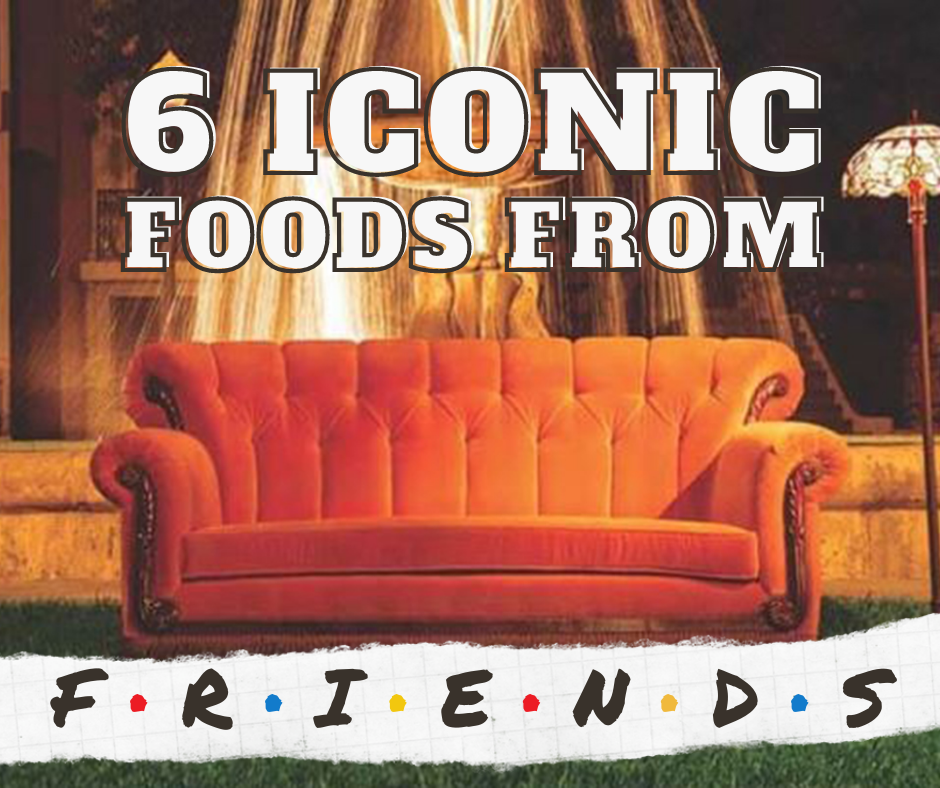 6 Iconic Foods from Friends
Friends is an American sitcom that is one of the most popular TV shows of all time. Even though its last episode aired almost two decades ago, it's still a cultural phenomenon that's talked about to this day.
What makes Friends so great was how relatable it was. You were watching a couple of friends develop platonic and romantic relationships, experience career progressions, and so much more all within the bustling hubbub that is New York City. It was like seeing them grow at the same time you were!
Because the sitcom took place in New York City, a lot of tasty dishes were featured in episodes. Today, we'll be looking at the numerous food references on Friends and how they related to the characters!
1. Joey's Meatball Sub
The Italian meatball sub is Joey Tribbiani's favorite food of all time. He loves the darn sandwich so much that he even dove in front of the sandwich (instead of Ross and Chandler) to protect it from gunfire! According to him, the meatball sub is the greatest sandwich in the world and is worth risking his life for.
Just make sure you don't smell it too much, even though it's difficult to resist its mouthwatering scent. Half of the sub's appeal comes from the smell, so if you smell it too much you suck up all of its taste units.
"I got it. This place makes the best sandwich in the world!" – Joey
"Hey, Joe, does it have meatballs on it?" – Gary
"Oh, yeah…" – Joey
2. Ross's Moist Maker Sandwich
The Moist Maker Sandwich, according to Ross, is one of Monica Geller's greatest creations. It's an amalgamation of Thanksgiving leftovers—you've got leftover turkey, stuffing, mashed potatoes, gravy, and cranberry sauce all in one sandwich. Then, you put a layer of gravy-soaked bread in between to keep the sandwich moist and juicy.
Ross looks so forward to this sandwich every Thanksgiving that he's genuinely upset when someone steals it from him one year. Once he finally discovers who did it, you could hear his screams of anger and frustration from miles away.
"Yeah. You see, my sister makes these amazing turkey sandwiches. Her secret is she puts an extra slice of gravy-soaked bread in the middle. I call it the Moist Maker!" – Ross
3. Rachel and Chandler's Cheesecake
One fateful day, an innocent-looking cheesecake was mistakenly delivered to Chandler and Rachel's doorstep. Ignoring the wrong address, they both discover it was the best cheesecake they've ever had!
Sometime later, Mama's Little Bakery sends them another cheesecake by mistake. Feeling guilty over the last one, Chandler and Rachel decide to deliver it to its rightful owner, though it didn't last very long. They ended up stealing it back and having a fight over who deserved a bigger piece. Both pieces fell to the ground, and Chandler, Rachel, and later Joey ate the cheesecake's remnants from the floor.
"I can't seem to say goodbye…" – Chandler
"Are you serious? Chandler, we ate an entire cheesecake two days ago and you want more?" – Rachel
"Well, I've forgotten what it tastes like, okay?!" – Chandler
"It was cheesecake! It was fine—it had a buttery, crumbly, graham cracker crust with a very rich yet light cream cheese filling… Wow, my whole mouth just filled with saliva." – Rachel
4. Monica's Lasagna
Monica Geller was known to be a fantastic cook. She was professionally trained to be a chef in culinary school and took a series of food-service jobs including being a waitress at Moondance Diner, planning recipes at Mockolate, and being a head chef at Allesandro's.
One of her specialties was lasagna. She made them every single time there was a special occasion. At one point, Monica was even asked by her Aunt Syl to cater her event with twelve lasagnas!
Unfortunately, Aunt Sylvia ended up rejecting these, and in the end, Monica was stuck with all of them. She and her friends spent the rest of the episode either giving them away or eating them themselves.
"Would you relax? You do this every time they come. The place looks great! You got a beautiful lasagna here that looks good enough to—" – Joey, reaching out to the lasagna
"Hey!" – Monica, slapping Joey's hand hard
"—avoid touching." – Joey
5. Roast Turkey
Roast turkey makes a couple of appearances in the hit sitcom. One notable example is the Thanksgiving episode where Joey discovers Monica won't be cooking a turkey due to a lack of interest. He insists they have a turkey and promises Monica there won't be any leftovers once he's done. In fact, he even busts out maternity pants to make sure there's enough room!
In true Joey Tribbiani fashion, he finishes the turkey and even has enough space left for a slice of pumpkin pie.
"Don't you put words in people's mouths! You put turkey in people's mouths!" – Joey
6. The Joey Special
A close second favorite food on Joey Tribbiani's list is the classic New York pizza. It seemed like every other episode he was munching on a pizza, going so far as to steal one from a neighbor. He and every pizzeria around the town also have what's called a Joey special, which is essentially just two pizzas every Friday.
And if you think that wasn't enough, you'd be right! Joey also has got a designated spot for his pizzas at home. While showing Phoebe around, he points to a chair where two pizzas sat and said, "This is where I keep the pizza."
But can you blame him? Who doesn't love pizza?
"You hung up on the pizza place? I don't hang up on your friends!" – Joey