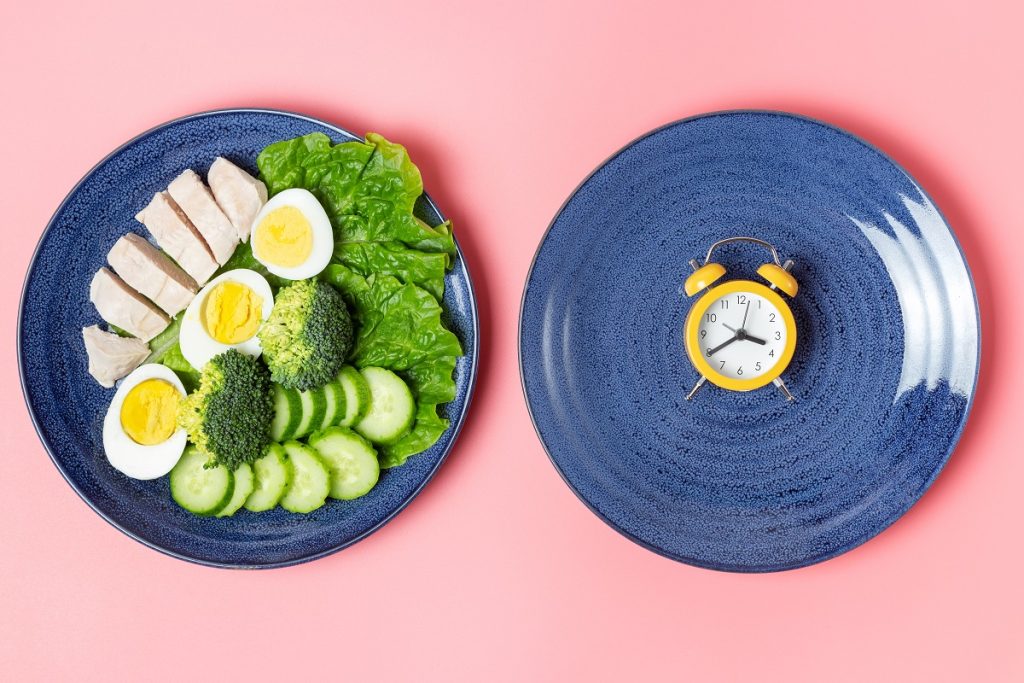 A Beginner's Guide to Intermittent Fasting
What is Intermittent Fasting?
If you've been trying to lose weight for a while, then you've probably already heard about intermittent fasting. It's a diet craze that has not only worked for millions of people but is also backed by scientific research!
Intermittent fasting is cycling between periods of eating and fasting. It's a technique where you limit the number of times you can eat to reduce calorie intake. Unlike other diets like the ketogenic and Atkins diet that limits carbohydrates, intermittent fasting doesn't care about what you eat—it's when you eat.
Intermittent fasting has a surprisingly long history. It's been practiced in numerous hunter-gatherer civilizations where food wasn't readily available—the body eventually learned to cope with the lack of food during long stretches and optimized accordingly by taking energy from stored fats. Some would even say that intermittent fasting is going back to the human's primal state before we evolved to obtain food from a grocery store!
Research has shown that intermittent fasting has numerous health benefits. Aside from weight loss, intermittent fasting also reduces insulin resistance, reduces heart health risk factors like high blood pressure, boosts cell repair, boosts metabolism, and plenty others.
What are the Kinds of Intermittent Fasting?
The great thing about intermittent fasting is how easy it is to change. If you're a beginner, you can make the eating and fasting hours as flexible as you want and start narrowing them as you adapt. If you move from a day shift to a night shift, you can move hours around and still get the benefits of intermittent fasting. You can customize it however you'd like!
Here are some of the most popular forms of intermittent fasting:
16/8
Also called the Leangains protocol, this method has you fasting for 16 hours and eating for 8 hours. The easiest way to do this is by skipping breakfast and having a hearty lunch and dinner.
Eat-Stop-Eat
This involves not eating for an entire day once or twice a week. For example, you can choose not to eat anything on Mondays and Fridays.
5:2
This is a lighter version of the eat-stop-eat method. In 5:2, you're limiting how much you eat on Mondays and Fridays (e.g., 500 calories per day) while eating normally the rest of the week.
Important Things to Remember About Intermittent Fasting
Like every weight loss fad, intermittent fasting comes with terms and conditions you need to be aware of. You need to consult with your doctor before even considering intermittent fasting as it may not be a good idea for those with health conditions like diabetes. Additionally, if you don't do intermittent fasting properly, it might not work as well or might not work at all for you.
Here are some things you need to remember:
Mind Your Portions
Some people think that eating during the specified time frame is all they need to do for intermittent fasting. What they don't realize is how much they eat is still important.
For example, let's say that you're doing the 16:8 method for the first time. You've successfully staved off hunger long enough, and now it's time to fill your body with the food it needs.
If you're a newbie, you might be tempted to eat everything in your sight—all this is doing is negating the agonizing wait you just did!
Remember: intermittent fasting is all about reducing the calories you eat by reducing the number of times you eat. If you reduce the number of times you eat but still eat the same amount of calories, then you're not going to lose weight.
Eat Healthily
If you're eating sodas, cakes, and pizzas during your eating time instead of fruits, veggies, and meats, then intermittent fasting isn't going to work either. Sure, they could have the same number of calories, but do sodas, cakes, and pizzas have healthy carbohydrates, proteins, and fats your body needs? Do you think you could survive 24 hours with a slice of cake and a bottle of soda?
Additionally, unhealthy foods aren't going to make you full. A lot of them are made with simple carbohydrates that get digested and absorbed easily into the bloodstream, raising blood sugar levels and blood pressure quickly. It's why it's easy to finish a large bag of Cheetos in one sitting but not a fruit bowl.
So, if you want to feel full quicker and longer, you need to eat foods made with complex carbs, which are usually stuff like fruits, vegetables, legumes, and whole grains.
Calories Aren't Evil
Some people can get pretty obsessive about reducing their calorie intake, so much so that they reduce their calories too much and start depriving their bodies of the nutrients it needs. As someone who used to be very misinformed about calories, I was the same way—I thought that if I reduced as much of my calorie intake as possible, I would see the pounds fly off at record speed.
And to be fair, I did lose a lot of fat in a short period. But I also lost a lot of muscle, and I was also chronically fatigued and had problems dealing with stress and depression. This made me binge eat whenever it became too much to handle (which was often), and I found myself gaining the weight back in a short period too.
The bottom line is this: calories aren't a bad thing. They give your body the energy to function properly physically and mentally. They keep your various organ systems healthy and strong, and you need them to build muscle too. Never go below 1200 calories per day as that's the bare minimum your body needs.
Be Consistent
Intermittent fasting isn't a one-time thing—it's a lifestyle change! If you often break your fasts, you risk falling into a yo-yo diet that'll have you losing weight easily one month and then gaining it back the next. It might be hard for the first few weeks but keep at it. Many people who've succeeded with intermittent fasting say that they get so used to it that they're not even bothered anymore.