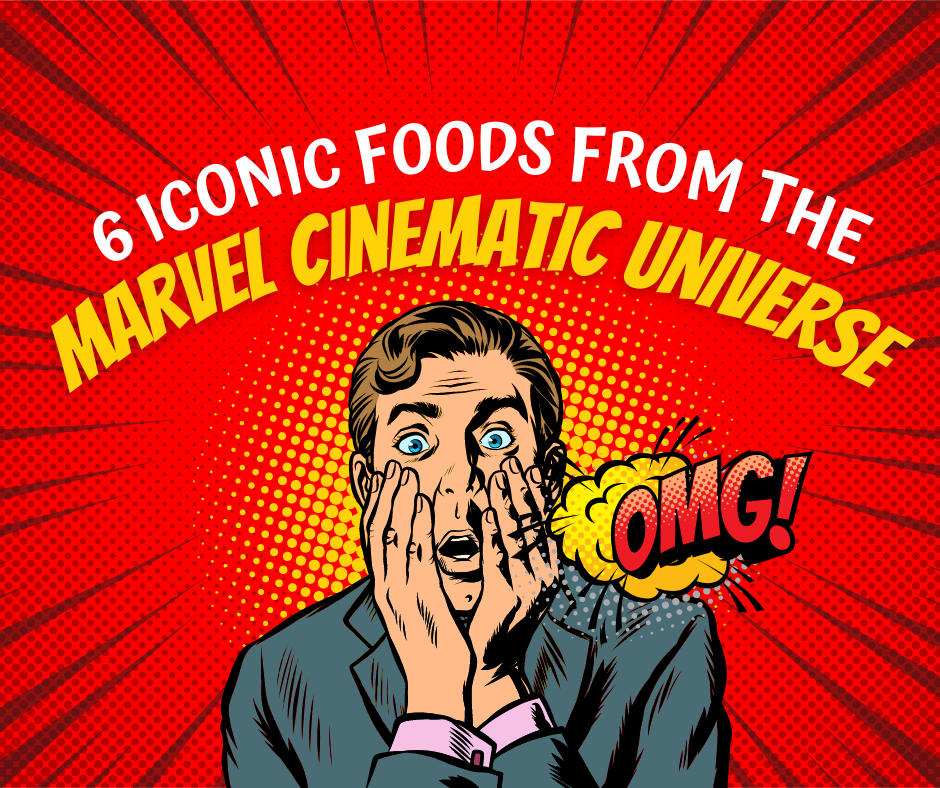 6 Iconic Foods from the Marvel Cinematic Universe
The Marvel Cinematic Universe, comprised of box office megahits like Iron Man, Captain America, and Thor, was Stan Lee's greatest contribution to the world. With strongholds in comic books, movies, and TV, Marvel has revolutionized the entertainment industry with their concept of shared universes. Take a look at the highest-grossing movies of the past decade and you'll probably find that half of them come from Marvel alone! Everybody loves a superhero.
With that said, let's take a look at the various food references made in any of the Marvel movies. It's amazing to see how superheroes are just like you and me!
1. Cheeseburger
Cheeseburgers have been referenced numerous times in the Marvel Cinematic Universe as Iron Man's favorite food. It's the first thing he asks for when he's released from captivity, going so far as to eat it in front of reporters as he holds a press conference regarding his capture.
A few years later, the same scene was referenced as Tony Stark's daughter, Morgan, said that she wanted a cheeseburger. She had just attended his funeral and was sitting on a bench with Happy Hogan, one of Tony's long-time friends. Hogan could only smile and say, "Your dad liked cheeseburgers too. I'll get you all the cheeseburgers you want."
Cheeseburgers are also important to Robert Downey Jr. According to him, a particularly disgusting one made him realize he needed to get his life together. From then on, he stopped taking drugs and started taking his acting career seriously.
"The doctor has to look at you." – Pepper Potts
"I don't have to do anything. I've been in captivity for three months. There are two things I want to do. I want an American cheeseburger, and the other…" – Tony Stark
2. Shawarma
What better way to celebrate saving the world from Loki's clutches than by eating a nice helping of shawarma? Lying on the ground after almost having died, Tony Stark reveals that he saw a shawarma shack while flying around the city and was interested to try it.
The post-credit scene of that movie sees the six Avengers huddling around a small table wolfing on some shawarma. The restaurant they're in was blitzed out by the fight, and in the background, you can see waiters and cooks cleaning up the rubble on the floor. This was a nod to the resiliency and almost apathy of New Yorkers to anything interesting around them.
Additionally, this scene wasn't scripted at all! It was added so late in production that Chris Evans had actually grown a beard since the end of filming. However, we're so grateful it was added in the end as it remains one of the franchise's most iconic scenes to this day—no dialogue needed!
"Alright, yay. Hooray, good job, guys. Let's just not come in tomorrow. Let's just take a day. Have you ever tried shawarma? There's a shawarma joint about two blocks from here. I don't know what it is, but I want to try it." – Tony Stark
3. Coffee
Coffee has become a lifestyle for some people, and that certainly seems to be the case for Thor, too! After a less than stellar first meeting with astrophysicists Jane Foster, Darcy Lewis, and Erik Selvig, wherein Lewis actually tasers him, Thor invites them for a feast to celebrate Lewis successfully beating him in combat. They end up in a diner where Thor eats a huge breakfast and drinks the bitter brew for the first time in his life.
Thor is very impressed by his cup of coffee and immediately demands another.
"This drink… I like it!" – Thor
"I know! It's great, right?" – Darcy Lewis
"Another!" – Thor, as he smashes the coffee cup on the ground.
4. Paprikash
In Captain America: Civil War, Vision attempts to cook paprikash despite not having the cooking skills nor the taste buds to see if he's following the recipe correctly. He does this to keep Wanda Maximoff in the house—partly because of orders from Tony Stark and partly because he wants to keep Wanda safe from public judgment. This scene is only the first of many to come as love blossoms between these two characters.
Paprikash is a traditional Hungarian recipe that involves simmering meat (usually chicken) in a paprika-infused sauce. It's typically served with dumpling-like boiled egg noodles (i.e., nokedli), rice, or ribbon noodles.
"A pinch of paprika… a pinch?" – Vision
"Is that paprikash?" – Wanda Maximoff
"I thought it might lift your spirits." – Vision
According to cast members and production crew on Avengers, Robert Downey Jr. had the funny habit of hiding food in different spots. Whenever he got hungry, he'd just pull out a bag of food and start munching on them while staying in character.
In one particular scene, Steve Rogers, Bruce Banner, and Tony Stark were discussing the reason they were all invited to SHIELD to help find the Tesseract. The debate got particularly heated between Stark and Rogers as both disagreed when it came to Nick Fury's motives—Rogers believed that it was a simple mission while Stark believed there was an ulterior motive. While bickering, Stark politely offers the super-soldier a bag of blueberries.
"I should probably look into that once my decryption program finishes breaking into all of SHIELD's secure files." – Tony Stark
"I'm sorry, did you say—" Steve Rogers
"JARVIS has been running it since I hit the bridge. In a few hours, I'll know every dirty secret SHIELD has ever tried to hide… blueberry?" – Tony Stark
Amidst the impending doom of Thanos' arrival on Earth, Tony Stark, Bruce Banner, Stephen Strange, and Wong had just enough time to discuss ice cream flavors with one another. This was a funny scene that perfectly described the Marvel Cinematic Universe—happiness and levity even when all odds are stacked against you.
It was also a nod to the franchise's massive success over the years. Iron Man and the Hulk have become such household names that Ben & Jerry decided to release Stark Raving Hazelnuts (described as a "bit chalky" by Doctor Strange) and Hunka-Hulka Burning Fudge. It even made Tony Stark break his promise to swear off dairy!
"Hunka-Hulka Burning Fudge is our favorite." – Wong
"That's a thing?!" – Bruce Banner