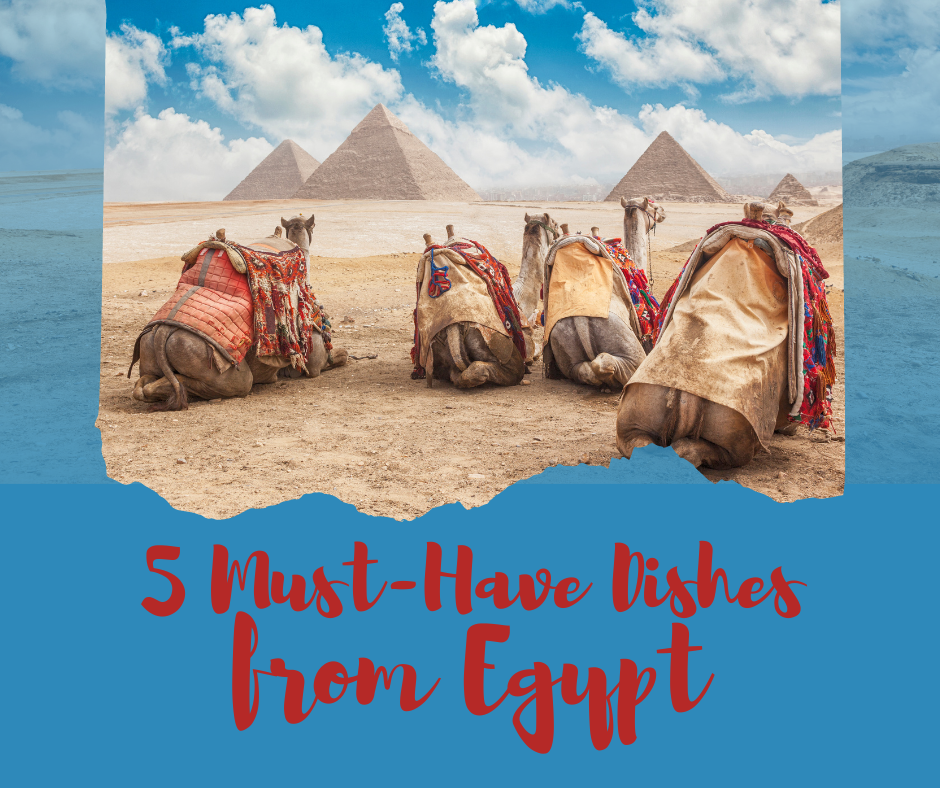 5 Must-Have Dishes from Egypt
When we think of Egypt, we usually think of the pyramids, royalty, the Bible, and hieroglyphics. Rarely do people ever think of the tasty foods that they have to offer—indeed, some of their dishes have been around since ancient Egyptian times. It'd be remiss on your part if you never even sampled some of their delectable foods!
So, without further ado, let's take a look at dishes from the Two Lands, Egypt.
1. Kushari
You just know you're never going to get tired of kushari, figuratively and literally! This dish is a combination of rice, spaghetti, macaroni, vermicelli, onions, lentils, hummus, tomato paste, soy sauce, garlic, and vinegar. Loaded with all kinds of carbohydrates like this, you'll have the energy to run marathons the whole day. That's probably why it's so beloved by Egyptians—it's their national dish!
These dishes have been around since ancient Egypt. Its name means "food for the gods" while simultaneously being described as "food for the poor" because of how cheap and easy it was to make by laborers. Now, both street stalls and restaurants make this dish, and they've even got instant kushari!
2. Rozz Me'ammar
Made by baking rice with tons of butter, milk, and clotted cream, rozz me'ammar is an extremely rich dish that'll have you feeling like Egyptian royalty! It can be served either savory (by incorporating chunks of meat and infusing meat broths) or sweet. It is commonly served during feasts and banquets, especially during Ramadan.
Given its high-fat content, you'll have to control yourself from eating too much of this. However, considering how awesome the picture of the dish looks, we can understand why it might be a bit of a problem controlling yourself. Alternatively, you can substitute some of the high-fat ingredients for something else, like whole-fat milk to non-fat milk or cow's milk to soy milk.
3. Mulukhiya
The photo might look extremely leafy, but believe us, there's so much more going on beneath the surface!
Mulukhiya is a leafy green stew that is cooked in garlic with the meats of your choice. What meat you choose is generally dependent on what area of Egypt you're from. Some use beef, some use rabbit, while others use chicken. Those that live near the coast in Egypt, for example, love adding fish and shrimp to their dishes! Mulukhiya is then served with rice or bread to help soak up all of that tasty sauce.
Like the kushari, mulukhiya is one of the dishes that's been around since ancient Egyptian civilization. At one point, it was even considered an aphrodisiac and banned for consumption! To this day, some devout religious groups still do not eat it.
4. Sayadeya
Sayadeya is one of many seafood dishes that's commonly eaten by those who live in coastal areas such as Alexandria and Suez in Egypt. It consists of fluffy, long rice that's been seasoned with spices, caramelized onions, and tomato sauce. It is then served with a huge serving of flaky, white fish like bluefish, bass, or mullet. If you don't have those fishes around you, then consider using halibut or haddock.
Make sure to add tahini sauce on the side. This really brings the whole dish together and adds even more flavor to an already stunning dish.
5. Besarah
Besarah is less of a meal and more of a dipping sauce. It is made of pureed beans, olive oil, lemon juice, leafy greens, and a ton of spices that go very well with bread at breakfast time. Like other dishes on the list, it is considered poor man's food because of how accessible the ingredients are even to those who live in rural areas. Nowadays, however, besarah is seeing a boom in popularity in urban areas because of its healthiness.
Vegetarians will be happy to know that besarah is good for them to eat!