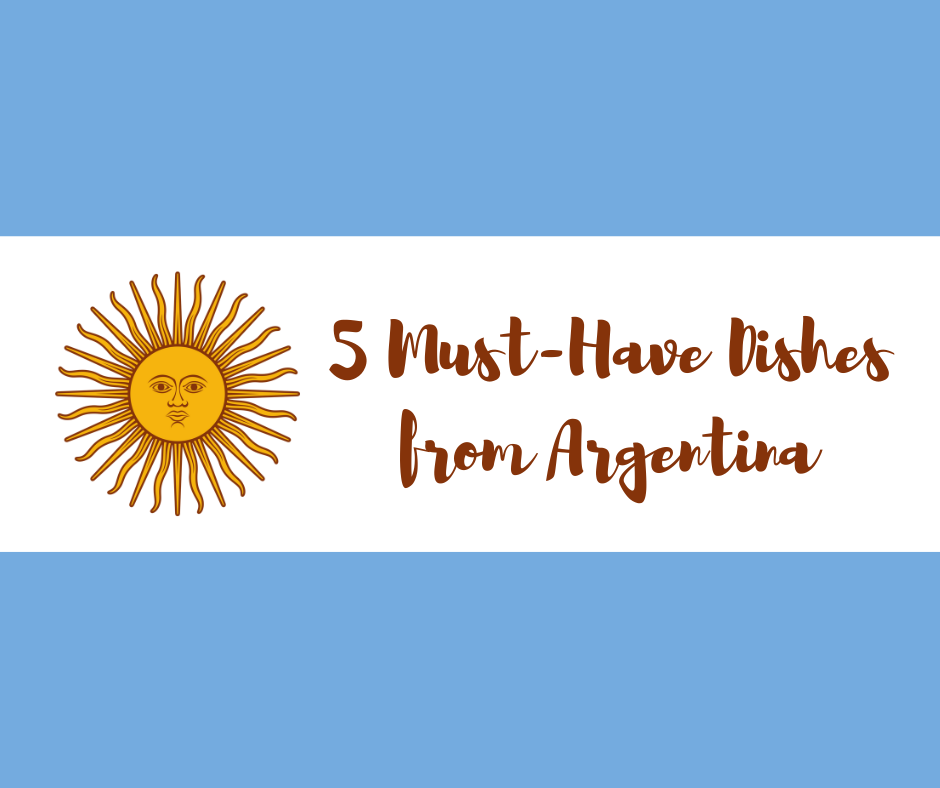 5 Must-Have Dishes from Argentina
Argentina, known officially as the Argentine Republic, is a South American country that's located so far down it claims ownership over certain parts of Antarctica. Isn't that crazy? It is the second largest country in South America after Brazil and is the eighth largest in the world. To its west is Chile, north Paraguay and Bolivia, and east Uruguay.
Like many countries in Latin America, Argentina fell victim to colonization in centuries past, both by Spanish and Italian settlers. You can see these foreign influences on Argentina in their dishes, which, as you'll see momentarily, are very diverse in taste and appearance. Dishes from Argentina are worth trying, in our opinion, especially if it's one of the following!
1. Empanada
A classic in almost all Portuguese-speaking and Spanish-speaking cuisines like Peru, the empanada is a turnover pastry that can either be baked or fried. It is typically filled with minced beef, onions, hard-boiled eggs, and olives and seasoned with lots of paprika, pepper, cumin, and oregano. Of course, this recipe isn't the only way to make empanadas—across the Latinx world, there are many ways to make the empanada!
Empanada comes from the Spanish word empanar, meaning 'to wrap in bread'. What a fitting name for such a tasty treat—it's a meal you can carry in your pocket!
2. Matambre
Matambre is a colorful dish that'll definitely have you looking twice! Its name translates to 'hunger killer', and it's pretty easy to see why. This dish consists of a large but thin slice of beef (usually flank steak) that's wrapped around colorful vegetables like the rainbow, hard-boiled eggs, olives, and other tasty morsels before it's boiled in milk and then baked in an oven. What a great way to have a well-balanced meal for a healthy lifestyle!
To eat matambre, cut a slice of it and serve it atop some toasted French bread with a little bit of mayonnaise. If you'd like, you can also add chimichurri, a sauce made out of extremely healthy parsley, garlic, oil, and red wine vinegar.
3. Provoleta
As you might have already guessed from the name, provoleta's main ingredient is provolone cheese. In fact, besides the handful of spices that help flavor the dish, provoleta is the dish's only ingredient!
Here, large slabs of provolone cheese are melted in a pan over medium-high heat or coals. Once the cheese is nice and melted, and there is a thin crust on the top and bottom, the provoleta is ready to serve.
To eat provoleta, scoop up some of the cheese and add it to some bread. It's kind of like a grilled cheese but way more fun to eat! Add a bit of chimichurri on top for some extra flavor.
4. Asado
Asado is the version of barbecue dishes in Argentina! It isn't one, singular dish—it's a wide selection of meats (i.e., chicken, pork, beef), cuts (e.g., flank steak, sirloin, short ribs), and other meat products (e.g., sausages, sweet bread)! Just take a look at the appealing picture below. With so many things to try, there's bound to be something in there that'll satisfy any carnivore's craving.
However, no authentic Argentinian asado can be complete without wine! As one of the largest wine-producing countries in the world, Argentina loves having a glass or two of its finest red or white wines. It really enhances the flavors of the meat and makes everything extra fancy and special.
5. Alfajores
Let's finish the list of classic dishes from Argentina with the alfajores, a decadent cookie dessert. Similar to French macarons, they are soft, shortbread cookies sandwiching a rich dulce de leche or Britney Spears's favorite chocolate filling. It is covered in light sprinklings of sugar, grated coconut, or cocoa powder. It is a common snack for people of all ages in Argentina. Imagine seeing a plateful of this after school—wouldn't you be excited for the school bell to ring, too?
Alfajores are so popular in Argentina that not only are they one of its largest consumers, but also one of the largest producers. Many companies like Jorgito, Guaymallen, and Havanna sell pre-packaged alfajores that are easily accessible to the public. If you ever make your way to Argentina, why not bring home several packs of it as souvenirs?