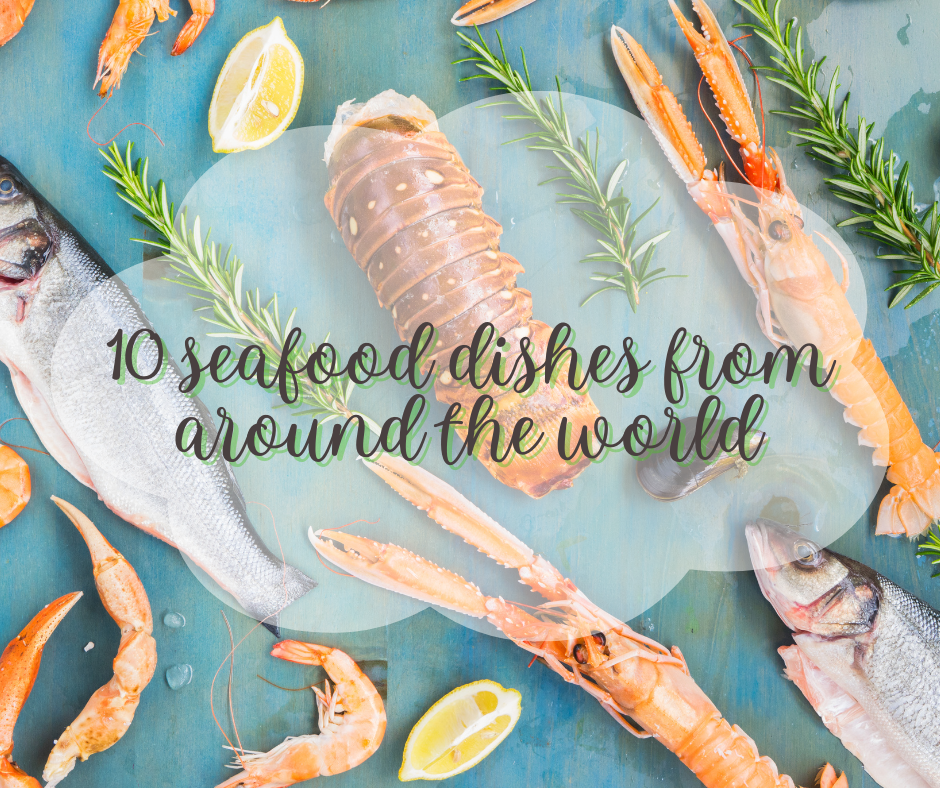 10 Seafood Dishes from Around the World
Seafood dishes are one of the healthiest foods around. They are excellent sources of protein, healthy fats, vitamins, and minerals, some of which knock daily recommended intakes out of the park! For example, did you know that 85 g of clams gives you 35 times the recommended intake for vitamin B12? That's pretty cool!
Seafood dishes have numerous health benefits including preventing life-threatening diseases, improving cardiovascular and nervous systems, boosting cognitive function, managing weight, and so much more.
So, if you're looking to incorporate more seafood into your diet and looking for some inspiration, then you've come to the right place. Here is how countries all over the world cook their seafood dishes!
1. Sashimi (Japan)
Sashimi, in simplest terms, is raw seafood! It's served with soy sauce and wasabi to heighten the taste. It also comes with pickled ginger that acts as a palate cleanser—after every bite of sashimi, you have a bit of this ginger to get rid of the taste and get ready for the next piece of seafood. Sashimi is a healthy Japanese delicacy that is served in many Japanese restaurants in Japan and all over the world.
The most common types of sashimi are salmon, tuna, halibut, mackerel, snapper, scallops, octopus, squid, and shrimp. Just take a look at how colorful this platter of sashimi is!
Just please remember that raw seafood isn't suitable for pregnant women.
2. Fish & Chips (United Kingdom)
Fish and chips are one of the quintessential dishes of the United Kingdom! Made by deep frying white fish fillets like cod and haddock in beer batter and serving it with a side of thick-cut fries (or chips as the Brits would say it), this dish is classic comfort food.
The origins of fish and chips go back to the 17th century. Eating fried fish was introduced by Jewish immigrants who, somewhere along the way, started pairing it with chips. It was one of very few dishes not rationed during the World Wars as the ingredients were readily accessible, and to this day, fish and chips are popular throughout the country. There's even an annual National Fish and Chips Awards!
3. Ceviche (Peru)
Often considered the national dish of Peru, ceviche is raw fish that has been marinated in lime juice and seasoned with salt, chili, and onions. The lime juice helps to "cook" the fish, changing its color from a bloody pink to white. The fish itself is quite chewy and not as fishy as you'd imagine from raw fish.
What makes ceviche so great is the freshness. In fact, freshness is imperative! If the fish isn't freshly-caught, there's a higher risk of food poisoning, which is why many Peruvians make ceviche within an hour of the fish being caught. This is definitely one of the more refreshing seafood dishes you need to try!
4. Bisque (France)
Bisque is an extremely thick and creamy soup of French origins. It's made by blending lobster, shrimp, vegetables, wine, and a stock made with crustacean shells. It's then thickened by adding a generous amount of white rice.
The etymology of bisque is a rich one. Some think that bisque came from the Bay of Biscay, where the dish is said to have originated from. Some think that it refers to bis cuites, which refers to the shellfish being twice-cooked. In modern times, the meaning of bisque has expanded to mean any cream-based soup that doesn't even have to have seafood like lobster bisque and mushroom bisque.
5. Surf and Turf (United States)
Surf and turf is an American dish that consists of a portion of meat and a portion of seafood. Almost anything can be used in a surf and turf—you can have beef, pork, lamb, etc. for the surf, and shrimps, lobster, crabs, etc. for the turf. Usually, however, it's a large portion of beef and a couple of shrimps.
The meat is usually pan-fried or grilled and served with a dipping sauce. The seafood, on the other hand, is usually broiled or baked. The entire dish typically comes with a side of vegetables as well.
Nobody can really pinpoint when surf and turf were invented, but they started becoming popular in the late 1960s in the United States and have remained a favorite since. And why shouldn't it be? You get the best of both worlds!
6. Chili Crab (Singapore)
Did you know that chili crab is widely considered to be the national dish of Singapore? It was invented in the late 1960s by Cher Yam Tian and her husband Lim Choo Ngee! With humble beginnings in a street pushcart, these stir-fried crabs mixed with chili and tomato sauce soon became one of the most sought-out seafood dishes globally.
7. Gambas al Ajillo (Spain)
Gambas al ajillo is one of the most popular seafood dishes from Spain. It translates to "shrimp with garlic" or "garlic shrimp". Here, big, plump shrimp are pan-fried in extra virgin olive oil flavored with tons of garlic. It's served with crunchy bread meant to soak up the sauce!
This dish takes less than 20 minutes to make and is the perfect appetizer. You can easily whip up a big batch of this to impress guests in your home or just treat the whole family!
8. Smoked Salmon (Canada)
Smoked salmon is salmon that has been cured and hot or cold smoked. It helps to protect the fish from microorganisms and prevents it from spoiling too quickly. It is extremely salty and smoky and thus needs to be sliced very thinly. You eat it on top of bread with a little bit of cream cheese or perhaps on top of a salad.
Salmon is an excellent source of omega-3 fatty acids that do amazing things for your cardiovascular system. It helps regulate your blood pressure and cholesterol levels, making it a worthy addition to many healthy diets. Just make sure to control your portions no matter how hard it can be to resist—it's pretty high in sodium!
9. Spaghetti alle Vongole (Italy)
Spaghetti alle vongole is one of the more popular pasta and seafood dishes in southern Italy and worldwide. Its name literally translates to "spaghetti with clams". As the name suggests, it's a dish made with spaghetti and clams!
There are two ways to make this amazing dish. The first is in bianco, which is tossing the dish with oil, garlic, parsley, and some white wine. The second is in rosso, which has tomatoes and fresh basil added to it. The main flavoring of the dish comes from the clams that open up as it is being cooked.
Spaghetti alle vongole is super easy to prepare and is great for those wanting dinner in a flash!
10. Moqueca (Brazil)
Moqueca is a traditional Brazilian seafood dish stewed in clay pots. It features fish and/or shrimp, fresh herbs and vegetables, palm or olive oil, and coconut milk. It is served piping hot and poured over rice.
The roots of moqueca can be seen as early as 300 years ago when Portuguese settlers arrived in the country and brought coconuts. Slaves from Africa then introduced palm oil to Brazilian cuisine, and the rest, as they say, is history.