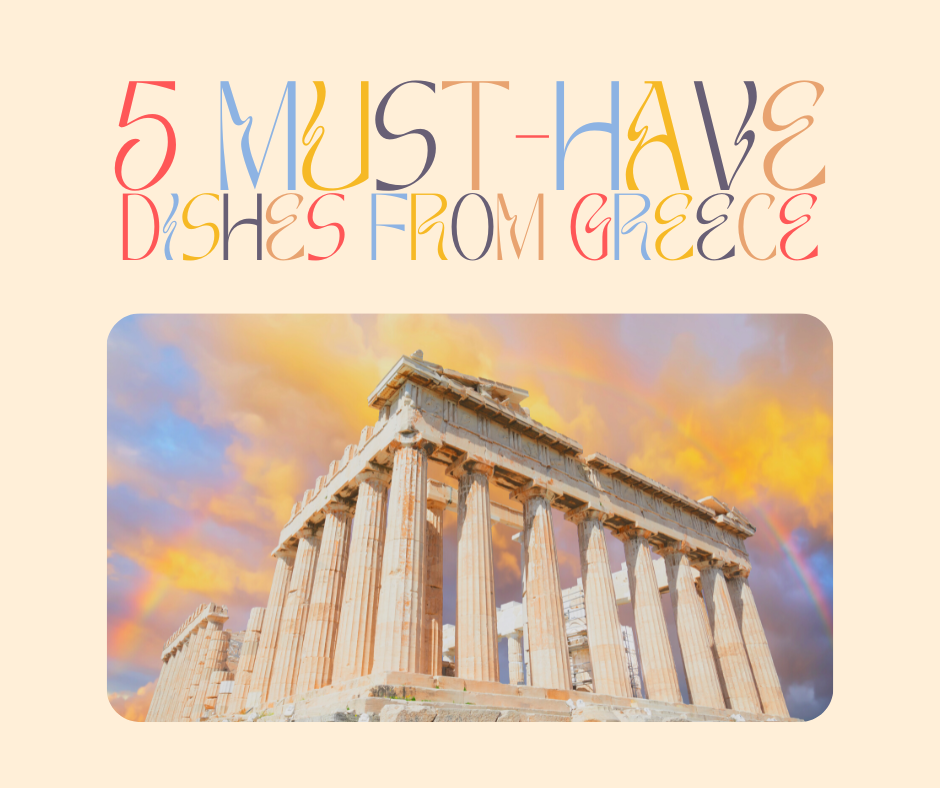 5 Must-Have Dishes from Greece
When you think of Greece, you think of gods and mythical creatures, ancient civilizations that have long since passed, scientific and mathematical breakthroughs, art and literature, and so much more. As a society, we have much to be grateful for Greece as they are the cradle of Western civilization, the blueprints of who we are today!
Nowadays, Greece is known for its stunning views of the sea, bright and sunny climate, amazing architecture, and rich history. And, of course, food—you can't forget about the food! With the freshest ingredients that are surprisingly very heart-healthy, dishes from Greece are not to be missed.
In this article, we'll be highlighting five of the best dishes from Greece (in our opinion). You are free to let us know which ones are your favorite, even if they are not on the list!
1. Moussaka
Moussaka is a layered dish that features either eggplant and/or potato as its main stars. In this traditional Greek delight, a thick layer of eggplant or potato is topped with a generous helping of minced beef or lamb in tomato sauce. Then, on comes the thick, gooey topping of bechamel or savory custard. The Greek recipe for moussaka was made by chef Nikolaos Tselementes in the 1920s.
Many variations of moussaka dishes exist not just in Greece, but all across the Middle East and Europe. It can easily be turned into a vegetarian dish by simply replacing the meat with something else like lentils, chickpeas, and other protein-packed alternatives.
2. Papoutsakia
Papoutsakia in Greek translates to 'little shoes', and can you see why? These little eggplant boats look just like clogs or loafers on your feet!
But don't worry, papoutsakia isn't actually made out of shoes! They are made of eggplants, minced meat in tomato sauce, and bechamel sauce, which means the taste is pretty similar to that of moussaka. Here, the eggplants are baked in the oven until they're soft. Then, they're packed with a ton of that tomato-based meat sauce and topped with bechamel sauce and cheese before being baked again.
3. Pastitsio
Did you know that pastitsio is the Greece version of Monica from Friends' lasagna dishes? That's because the sauce in this dish is not unlike the Bolognese sauce from Italian lasagnas. In this dish, however, instead of using pasta sheets, the Greeks use pastitsio pasta—this is a bucatini-style tubular pasta that looks longer and thinner than ziti.
And just like the previous two Greek dishes, it also features a rich, meaty tomato sauce with minced meat and some bechamel sauce. Man, the Greeks sure do love these ingredients, don't they?
Typically, the bottom layer of the pastitsio needs to be made of pasta so servings can easily be scooped up. Then, how many layers or how thick the layers are will depend on whoever's making the pastitsio. Then, once everything looks good, you can top the whole thing with a thick coating of creamy bechamel sauce to finish the whole thing and bake it in the oven.
4. Souvlaki
You'd be surprised to know that these popular fast food dishes have been around since the time of ancient Greece. Evidence of souvlaki has been around since the Bronze Age when excavators uncovered stone cooking supports with indentations. These indentations are where the skewers were held and cooked under hot coals. Moreover, many Greek philosophers, writers, and playwrights like Homer, Aristotle, and Xenophon mentioned spit-roasting meat in their literary works.
Souvlaki is typically made with pork, though it can also be made with chicken, beef, or lamb. It is eaten with pita and vegetables and flavored with lemon and sauces on the side for dipping.
5. Spanakopita
Spanakopita is a savory pie dish that falls apart delicately in the mouth! It's made of spinach, feta cheese, scallions, and eggs that are wrapped in a thin pastry called phyllo. Then, it's brushed with olive oil or melted butter and baked until the phyllo is golden and crunchy. It can be served either hot or at room temperature. It can also be served at any meal of the day as it is just that addicting!
This dish is very popular in Greek cookbooks and can be found in almost any Greek restaurant worldwide. However, if you want the best experience with spanakopita, you'll have to head to northern Greece where almost every household has a tried-and-tested recipe for it.