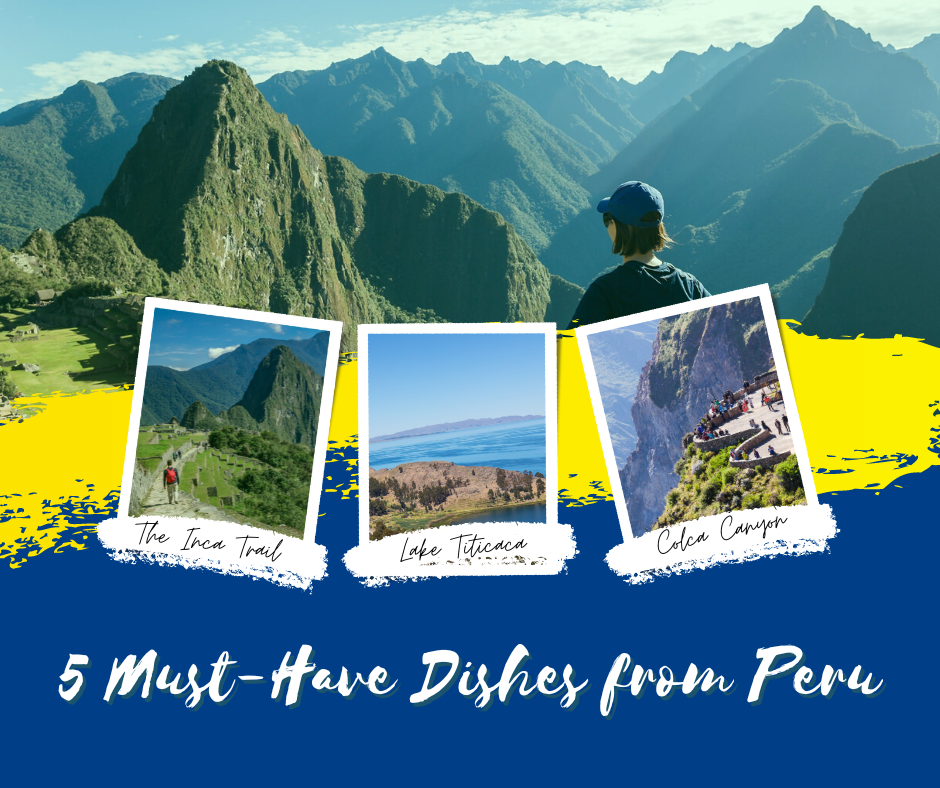 5 Must-Have Dishes from Peru
In Peru, the saying "Opposites attract," has never been truer. Not only do you have a mix of both Western and Eastern cultures, but you've also got spicy and creamy, hot and cold, simple and complex, and so much more. You're just not sure what to expect when it comes to Peruvian culture and its dishes!
In this article, we'll be taking a look at five dishes that Peruvian eat on the regular. Going down, you'll see that these dishes are very different from one another in terms of looks and taste—the main similarity that they have is that these dishes are proudly Peruvian!
1. Ceviche
No doubt the most popular dish to come out of Peru, ceviche is a stunning seafood dish that consists of raw fish marinated in fresh citrus juices from limes or lemons. The juices help to 'cook' the fish and make it safe for eating, even if it is raw. Ceviche is also typically seasoned with peppers, red onions, cilantro, and more salt to really enhance the flavor.
With ceviche, you know you're getting the freshest catch. Having fresh fish in your ceviche reduces the risk of food poisoning, which is why you need to prepare ceviche as soon as you get your fish. From swimming in the ocean to swimming in your tummy real quick—that's ceviche!
2. Lomo Saltado
In a lomo saltado, you can see the influence Asian cultures have had on Peruvian cuisine. This is a meal where Chinese stir-fry and Peruvian ingredients go hand-in-hand!
Here, thin strips of beef (typically sirloin) are stir-fried in oil with tomatoes, onions, and bell peppers. Cook until the beef is perfectly cooked and the other ingredients are nice, soft, and mushy—almost like a gravy. It's then served with a glorious helping of crunchy French fries and steaming white rice. Again, a curious blend of both Western and Eastern worlds!
3. Aji de Gallina
Cream and chicken go excellently with each other, and aji de gallina is no exception. This Peruvian comfort dish has slowly been gaining recognition all over the world for its complex flavors yet simple preparation. This dish simply consists of poached chicken that has been covered and cooked with a creamy walnut-based sauce that has a little kick of spice to it. It's then served with rice and boiled potatoes for a meal that's very filling on the tummy.
And the best part about it is that you won't even have to be in Peru to enjoy this tasty dish! All of the ingredients can be easily found in your local grocery store or Hispanic supermarket these days. There are also easy substitutions such as replacing aji yellow peppers with Scotch bonnets. Try it out for yourself one of these days!
4. Rocoto Relleno
Rocoto relleno is a super savory and super spicy dish that is juxtaposed really nicely with creamy cheese and an egg and milk custard. It is prepared by hollowing red aji rocoto chilies and stuffing them with ground beef, garlic, onions, olives, raisins that are good for the teeth, herbs, and spices of your choosing. As you can see in the picture below, it's a very colorful dish that makes the mouth water in no time!
Keep in mind, however, that the pepper used to make rocoto relleno is around ten to twenty times hotter than your average jalapeno. So, make sure that you really want to eat this dish. One bite may be all you can handle before gulping down gallons of milk.
5. Arroz con Pato
Arroz con pato translates to 'rice with duck'. It is one of the more common Peruvian dishes. It is very quick and easy to make. Here, duck legs are seasoned with salt and pepper and then fried in some oil to make them brown and crisp. Then, you add some duck broth and beer to make the duck very moist and give it an earthier taste.
Take the duck out and let it rest for several minutes. Pour in the uncooked rice and vegetables in that delectable duck broth until it soaks up all of that meaty goodness. Serve the rice with the duck legs on top and garnish with more vegetables.