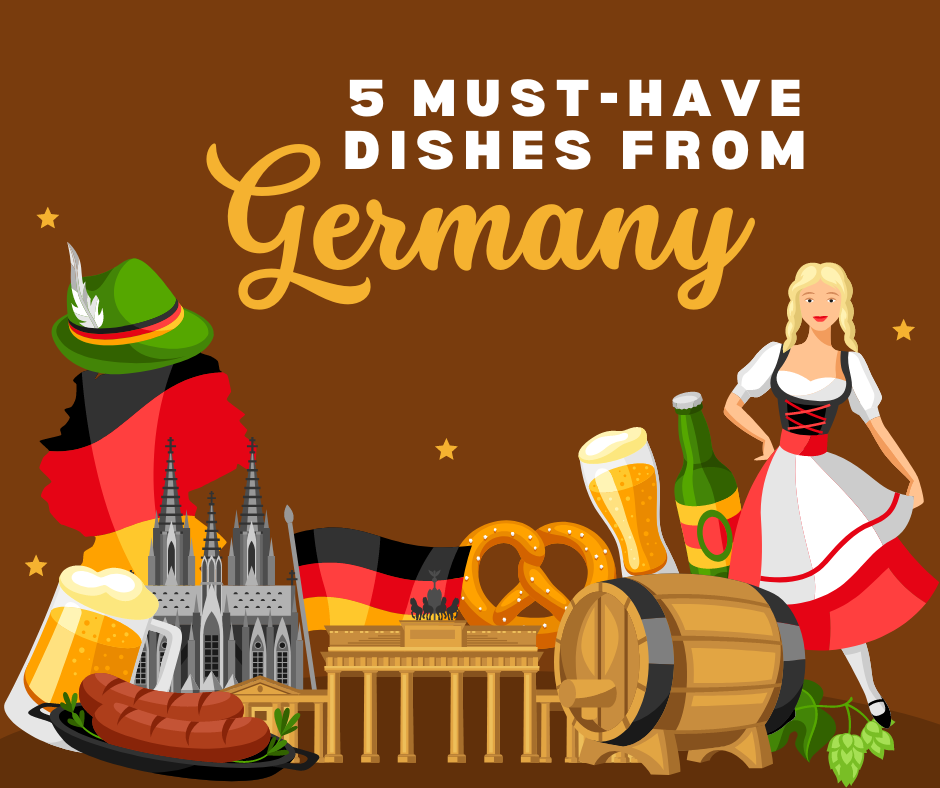 5 Must-Have Dishes from Germany
There is something about dishes from Germany that are so comforting. Their food is warm and filling for the tummy, ensuring you never leave a meal unsatisfied. Dishes from Germany are made from locally-sourced ingredients so you know you're getting the best of Germany. Their food comes with a lot of history, so you know their recipes are time-tested to perfection!
In this article, we'll be taking a look at the various dishes that make Germany so special.
1. Konigsberger Klopse
Konisberger Klopse is a dish comprised of German meatballs made of finely minced veal (you can also use beef or pork), onions, eggs, bread crumbs, and a variety of herbs and spices, the chief of which is white pepper. It's gently boiled in salt water, and the broth that comes out of it is used to form a roux with butter, cream, and egg yolk. The result is a very creamy yet salty dish that's very filling and yummy, especially when you add capers!
The dish is named after a former city in Germany called Konigsberg and had been a staple in Prussian cuisine. Though neither Prussia nor Konigsberg exists anymore, meatballs are still very popular in German households today.
2. Currywurst
You can't think of Germany without thinking of its iconic bratwurst! These are pork sausages that are fried, steamed, or grilled until they're popping at the seams with flavor. They come in a ton of different shapes and sizes. They typically come with a side of potatoes, whether fried, roasted, or mashed.
Currywurst takes the bratwurst to the next level by having a delectable sauce poured on top. This recipe is attributed to Herta Heuwer, who first came up with the curry by mixing ketchup or Worcestershire sauce with curry powder in 1949. Since then, it's become a popular street food all over Germany, with an estimated 70 million of them eaten in Berlin alone!
3. Schnitzel
Schnitzel is another one of those dishes that is closely associated with Germany, even though its roots are primarily Italian or Austrian. Here, a slab of meat (made of veal, pork, chicken, lamb, beef, or turkey) is tenderized until it becomes very thin and large. This makes it very crunchy and soft when it is eventually breaded and fried. It is commonly served with lemon slices, potatoes, and a salad.
For how tasty it is, schnitzel is ridiculously easy to make. It takes less than 30 minutes! This is the perfect dinner idea for those wanting a warm, well-balanced meal at the end of a long day. It's also a budget-friendly way of prepping meals for the week.
Fun fact, but did you know that the origins of schnitzel could be traced back to 800 AD? It was said that Basil I the Byzantine Emperor and founder of the Macedonian dynasty loved to have his meat covered in gold.
Well, schnitzel is definitely the next best thing!
4. Rouladen
If the Americans have their meatloaf and the British have their Sunday roasts, the Germans have rouladen. It is a very heavy beef dish that's packed with lots of flavors and awesome ingredients. Here, thinly-sliced beef is wrapped around onions, pickles, mustard, and bacon and served with a decadent red wine gravy. It's then served with different side dishes such as boiled potatoes, bread dumplings, red cabbage salad, and more.
5. Spaghettieis
Despite the name, spaghettieis is actually a German dessert! It translates to spaghetti ice cream and is simply a plate of ice cream assembled to look like spaghetti. For the noodles, you have long strips of vanilla ice cream and whipped cream. Then, you pour strawberry sauce on top to look like Bolognese sauce. Then, it's topped with coconut flakes, ground nuts, or white chocolate shavings to look like parmesan cheese.
This dish was invented in the late 1960s by Dario Fontanella. He claims he invented it because children often wanted ice cream and not spaghetti. Since then, it's been a staple in German children's parties and is sold in many ice cream parlors in the country.